Discover more from ESG on a Sunday
The best ESG-related insights this week
Over 4,000 subscribers
Week 21: Is Covid-19 really helping the climate?
Covid-19 is not helping the climate, but it is reshaping the power sector and revealing the strength of ESG funds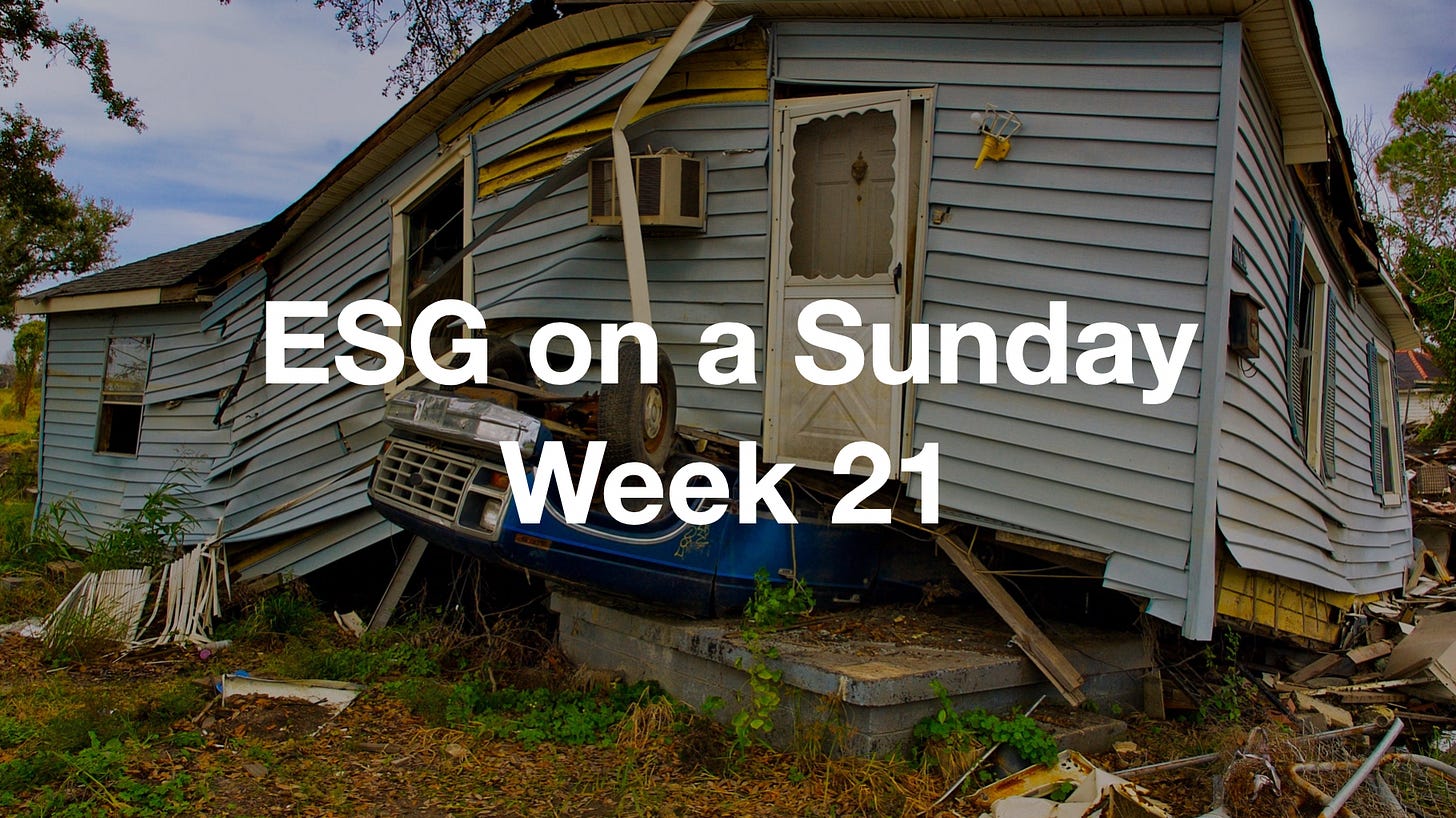 Dear subscribers,
First of all: Thank you for signing up to "ESG on a Sunday". 
It's been really uplifting to see the many signups (almost 500) since we launched this newsletter less than a week ago. 
It means that now we really believe in this, and will focus even more on creating the best ESG newsletter out there, week after week after week.
A word about ESG 
Before we focus on this week's stories, I would like to touch upon the status of ESG in the world of finance and investing.
In recent years, ESG has become a key battleground for the asset management industry, as active managers look to differentiate their offering to garner market share. 
More specifically, ESG is used in two ways by asset managers: 
They use it to credibly integrate a sustainable approach across their fundamental investment processes; 

They increasingly use it to develop thematic products to provide bespoke or customised ESG solutions.
All of this is fine and well, but as it stands Europe accounts for ~75% of global ESG assets. 
In other words: the rest of the world is still not part of the biggest shift in financial history. 
We need them to be, and we need it fast.
Is Covid-19 helping the climate?
Okay, now on to this week's ESG related stories.
The biggest story this week was about how Covid-19 is not helping the climate after all. Yes, we have seen a big drop in CO2 emissions during the lockdown, but the first peer-reviewed analysis shows that it is not happening where it really matters, i.e. in the energy production. 
What we've seen is what happens if we all stop doing what we're doing (no flying and no driving), and it's not having a very big impact. And it won't last.
In a very good article in Quartz, Leah Stokes, a political scientist with a focus on energy policy at the University of California, was quoted saying:
"This really shows the potential limits that extreme measures can deliver with the current energy mix. This is the upper bound of what we can achieve with changes to individual behavior."
We need structural changes, not individual (non-)actions
Another good piece on this was published by Forbes. Here, the study's lead author, Corinne Le Quéré, was quoted saying:
"The decreases are likely to be temporary (…) as they do not reflect structural changes in the economic, transport, or energy systems."
In a way, the lockdown has been a full-scale live test of what will happen if climate strikers get their will. 
Focusing on individual behavior is clearly not the solution. What we need in order to combat climate change is structural changes to our energy system. Not lockdowns. Not stay-at-home campaigns. Not no-fly movements.
Read my article on why flying isn't the source of our global warming problems here.
The power sector after Covid-19
While the fall in emissions during the coronavirus is no cause for celebration in itself, there are a number of climate positives coming from it nonetheless.
First of all, the huge power demand plunge will help reshape energy markets. 
As reported in this piece from Bloomberg, the prolonged slowdown will increase economic pressure on older, uneconomic power plants - especially those that burn coal - and help speed the transition toward cleaner and cheaper wind and solar. 
ESG continues to gain ground
Another positive story is that ESG funds continue to gain ground. 
Not many ESG fund managers set out to protect investors from a global pandemic. But their funds have nevertheless proven resilient during the subsequent market collapse. 
With the benefit of hindsight, it's easy to see how fund managers avoided risk by using ESG scores as a proxy for well-managed, adaptable companies, or planning for an existential climate shock.
Read the Bloomberg story here.
Hurricanes really are getting stronger
Finally, if we had somehow forgotten about the severity of the climate crisis, a new study on hurricanes woke us up. 
The study shows that with 95% confidence the tropical cyclones have gotten significantly stronger in the era of most intense climate change. 
And so, more tropical cyclones are becoming hurricanes. And more hurricanes are becoming "major hurricanes."
Enjoy the reading and stay safe!
Best regards,
Sasja Beslik