Discover more from ESG on a Sunday
The best ESG-related insights this week
Over 4,000 subscribers
Week 22: How sustainable is Amazon?
Amazon is an ESG favourite among asset managers, but how sustainable is the company really?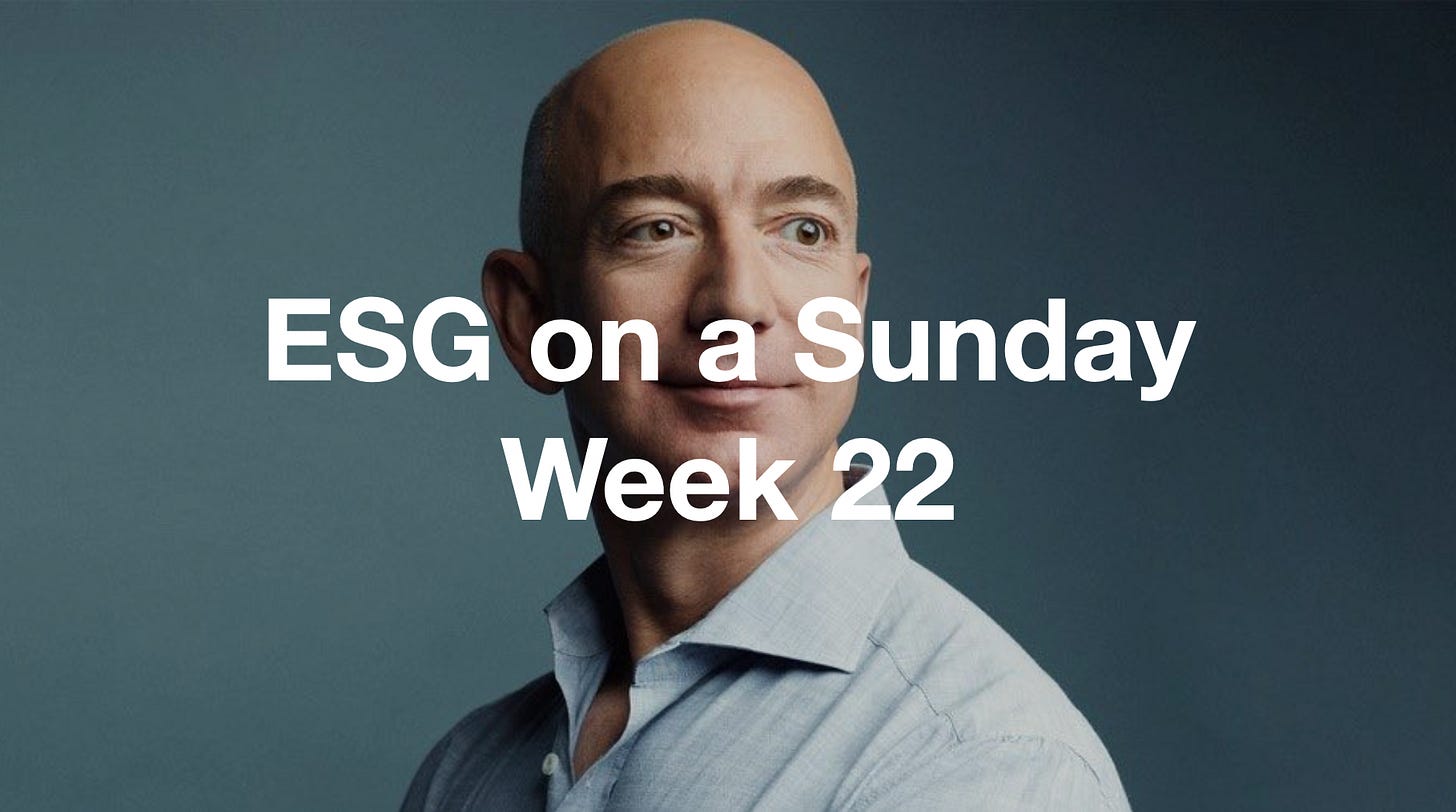 Dear subscribers,
It's time for another edition of "ESG on a Sunday". 
This week is a bit special as I'm devoting it to my own ESG analysis of Amazon, fresh off the press. I wanted the subscribers of "ESG on a Sunday" to read it first.
How sustainable is Amazon?
I hope you will read the analysis in its entirety. But there's a few points from it that I would like to highlight here:
Amazon is bigger than most people can even imagine. For example, the company's revenue is now higher than the economic outputs of nations such as Hungary and Kuwait. Jeff Bezos is arguably the most powerful man in global capitalism.

Amazon is investing in renewable energy sources. But it has also kept its carbon footprint figures hidden for many years, until releasing some staggering numbers last year. In fact, our analysis shows that Amazon is on a 4-degree Celsius path.

Amazon has raised its minimum wages and has added 10,000 jobs under the Covid-19 pandemic. But it has also faced a great deal of criticism for inhumane working conditions and poor labour practices. 

Amazon is facing growing shareholder concerns. Ahead of the company's last annual meeting, investors have filed at least 14 shareholder resolutions on a variety of environmental, social and governance issues.
In other words: It's clear that Amazon's success has come at a high cost. But there are also a number of positives. It's not an easy analysis to do. In my analysis I argue that in order to fully assess Amazon we need to go beyond the traditional ESG approach.
I'm really looking forward to hear what you think. And if you want to share it, even better!
A call for global cooperation
In other news, I recommend that you read (or re-read) U.N. Secretary-General António Guterres' opinion piece in New York Times last month.
Here, he argues that with closer cooperation among nations we could both stop the pandemic faster and slow climate change.
We must act now to tackle the coronavirus globally for all of our sakes — and, at the same time, pursue immediate ambitious climate action for a cleaner, greener, more prosperous and equitable world. - António Guterres
Hip hop goes green!
And finally, it turns out that hip hop music could play an important role in raising awareness of green issues among people of colour and in marginalised urban communities.
At least that's what Yale's Thomas Easley is exploring and arguing in this brilliant essay published by Yale E360.
That's it for now. Enjoy the reading and stay safe!
Best regards,
Sasja Beslik