Discover more from ESG on a Sunday
The best ESG-related insights this week
Over 4,000 subscribers
Week 23: Asset managers pay lip service to human rights
Asset managers' approach to human rights is deplorable. The fall of the fossil fuel economy is a threat to global financial stability. And much more.
Dear subscribers,
I hope you're enjoying the weekend. It's time for yet another edition of "ESG on a Sunday".
Asset managers pay lip service to human rights
You know, I have been doing this (sustainable finance) for over 20 years. I have seen most of what there is to see in business across the world. I have seen mines, production facilities, power plants, shoe factories, engine assembly lines, oil platforms, vast plains of palm oil, car manufacturing. I have seen most of it on the ground, and I have spoken with the people affected by these things. As well as with the people employed and managing all of it.
I have to say that I have never met anyone in the financial industry that openly dislike or ignore human rights. It is not only politically correct, but also financially sound to invest in businesses that respect and work with human rights. And it's financially risky to do the opposite.
However, when I read this report by ShareAction (with Felix Nagrawala as the lead author) I got scared. Take a look at the numbers yourself. See the reactive approach taken, and you will get the picture.
Here's the main graph from the report, if you want the very short version: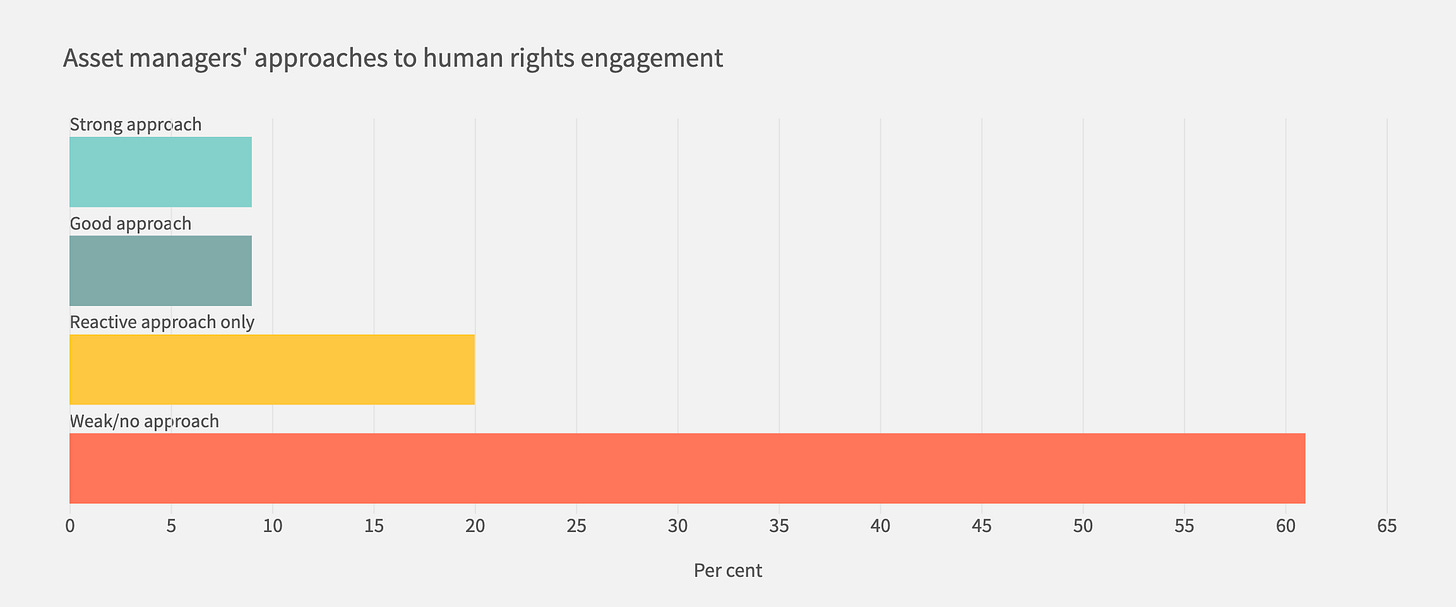 The question now is this: How will the financial industry ever re-establish its societal contract? 
A lot of people need to do some soul searching. Let's hope there's still some soul left to search.
The fall of the fossil fuel system
This week we also saw a new important report by Carbon Tracker, on the decline of the fossil fuel economy and its threat to global financial stability. This report warns investors that there is far more risk in the fossil fuel system than is conventionally priced into financial markets.
Investors need to increase discount rates, reduce expected prices, curtail terminal values and account for the clean-up costs. It's another chilling read, even for those who know the game and the players. And it is simply very useful knowledge for anyone who wants to deploy capital for, well, a financially sustainable future. 
Microsoft's quest for the future
Next up is a company case. The company, Microsoft, we all know. We use its products, and we depend on it. Microsoft is large, powerful and fragile at the same time. It's a software company that reinvents itself over and over again.
Microsoft has a plan to go carbon negative. But what will the company's quest to tackle climate change mean for its future, its growth and its ability to sustain?
Bloomberg has published this personal, well-written and insightful article on what it takes to make a transformation for real. Microsoft is one of the biggest companies in the world. The transformation is painful, but it is possible. It's a question of how fast.
Microsoft's approach has won praise from climate scientists for its ambition. But the company also counts some of the worst emitters – oil and gas giants such as Chevron Corp. and Exxon Mobil Corp. – among its customers, selling them software and gear they use to increase oil and gas extractions.
According to Microsoft, it needs to buy credits to remove about 2 million tons of CO2 next year. And about 6 million by 2030, even though new emissions will be cut by more than half by then. There are other large companies interested in buying credits to offset their carbon sins, too. But there will not be enough carbon-removal tech credits for everyone to offset their emissions. 
Russia declares emergency in Arctic
We move on to the beautiful country of Russia and a tragedy in the making, as reported by e.g. the New York Times. With perma-frost disappearing, many oil and gas companies in Russia are facing serious safety challenges. And melting has just started.
On Friday, we saw a first example as a massive reserve fuel tank belonging to a thermal power station burst near Norilsk, a remote city in northern Russia about 180 miles above the Arctic Circle.
The tank, in an industrial zone owned by the Russian mining conglomerate Norilsk Nickel, contained around 20,000 tons of diesel, and most of that has leaked into nearby rivers and a reservoir in the Taimyrskii Dolgano-Nenetskii district, according to Russian emergency officials.
Here's a satellite image of the rivers turning red. Sadly, we can expect to see more of this.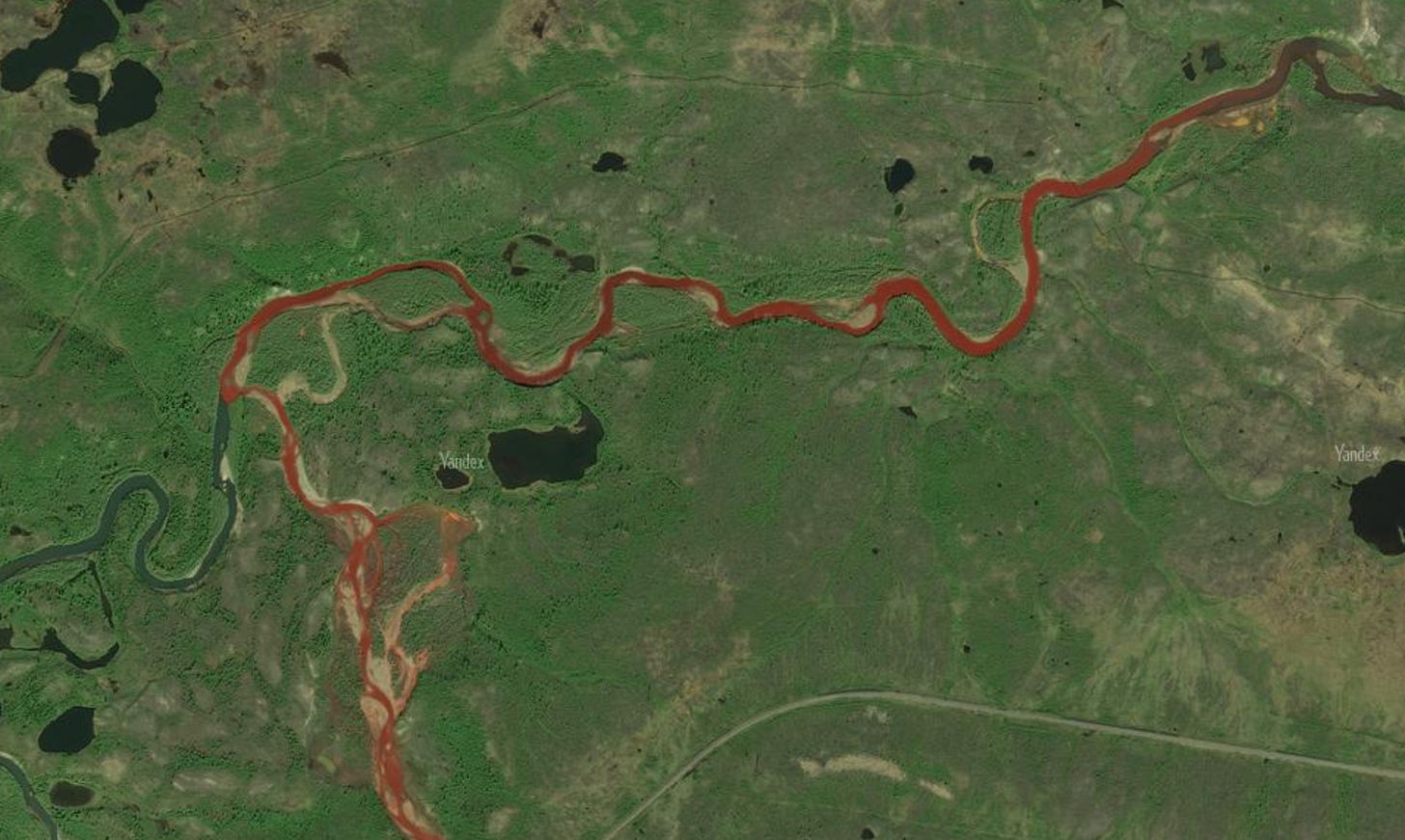 Investors must pay more attention to the physical risk of climate change 
Mike Tyson famous quote that "everyone has a plan until they get punched in the face" is very suitable here. To most of us in the developed world, climate change is hard to see and feel. But for most of the poor people on this planet climate change is physical.
To that end, the current Covid-19 pandemic is a reminder that crisis preparedness and resilience are essential to manage risks from highly uncertain events that can have extreme economic and human costs. This article from IMF gives a good perspective on what it really means, and why investors have to take it into account. 
European authorities have told banks for the first time to take account of environmental risks in lending decisions, ramping up pressure on the financial industry to respond to climate change
Yes, that's a heading… Please read it again.
Did you notice that it said "for the first time"? We're now in 2020. It's been almost 5 years since the Paris Agreement. And yet, banks have not been told this before.
Well, better late than never, many will say. Here's the article from Bloomberg.
And that's it for now. Enjoy the rest of your Sunday!
Best regards,
Sasja