Discover more from ESG on a Sunday
The best ESG-related insights this week
Over 4,000 subscribers
Week 24: Is H&M a sustainable company?
The Swedish Tycoons. Oil and gas is betting on a comeback. Our fate is tied to the clouds. And social justice investing.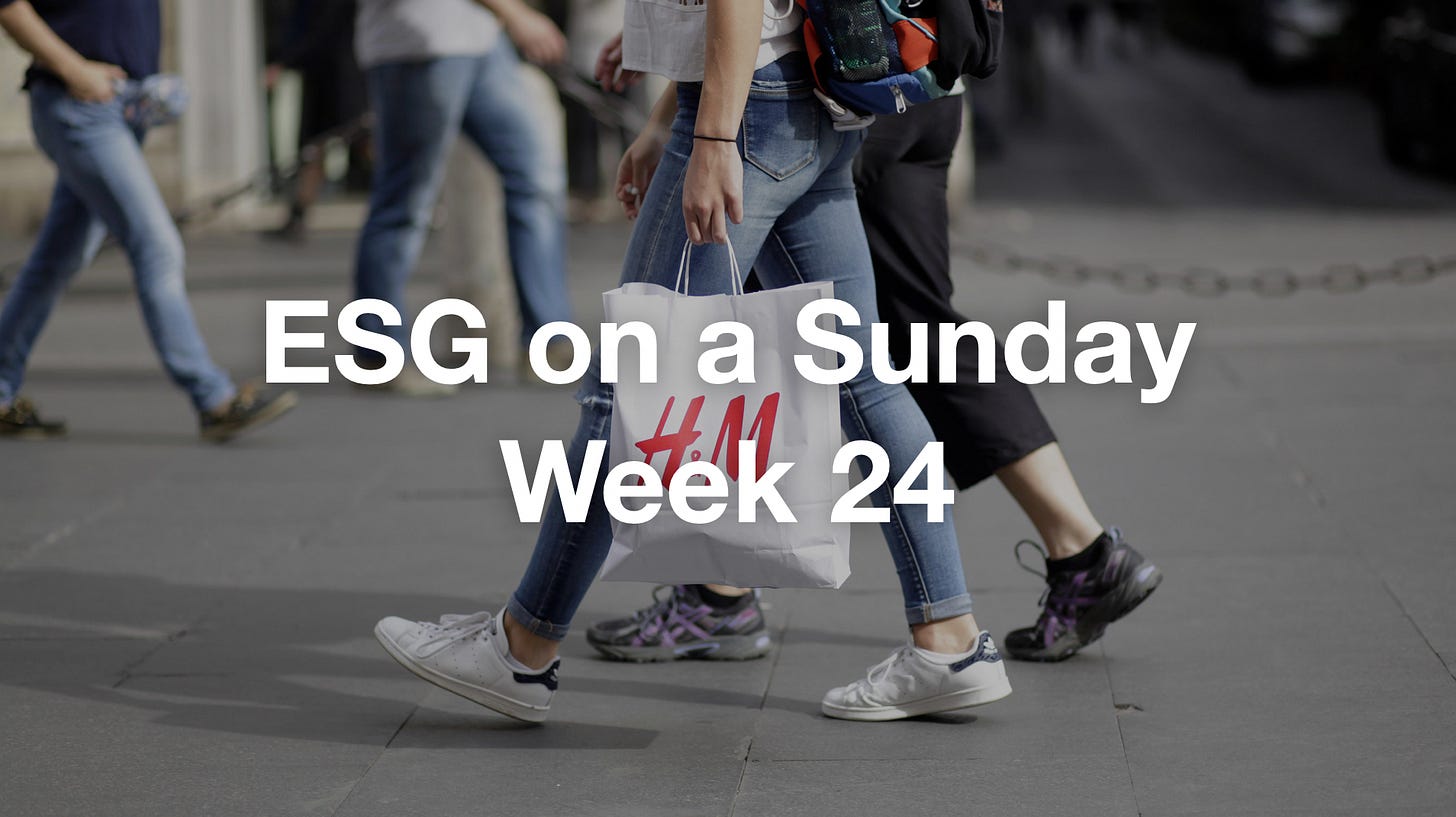 Dear subscribers,
This week we go retail garment track and take a deep dive into H&M.
Regardless of how much you know about H&M, the more you read and analyse, the clearer it becomes how hard it is reform and rebuild an unsustainable business model and keep everyone happy.
H&M is, in a way, the embodiment of a business model dependent on endless and continuous consumer-driven growth that drowns in cheap labour. It is not a sustainable business model, but there are many such models around the world.
The question is what it takes to really change the model, and who will pay for it. 
Read my entire ESG analysis of H&M here:
More oil and more gas – and it will be even cheaper
! 
The idea that we are on our way to phase out fossil fuels is in fact… just an idea. At least according to many business people, mostly in the U.S.
Instead, they believe that carbon capture and storage is King, and according to this really interesting article on Bloomberg most of the bad boys in the oil industry count on tax-credits to boost investment in technology that will enable us to use, well, burn even more fossil fuels.
The article also addresses the big picture of what is happening behind the curtains of oil magnates. Spoiler alert: It's all about more oil and gas.
Thirteen commercial carbon capture systems are now operating in the U.S., with 30 more in development, according to the Carbon Capture Coalition. Nine have been announced since October. The growing list boasts projects proposed by deep-pocketed developers including Occidental Petroleum Corp. and Starwood Energy Group Global.
A similar tax credit jump-started the U.S. wind-power industry more than a decade ago.
Clouds will determine the fate of humanity!
You will almost certainly get very confused if you then go on to read this story from The Guardian. But I guess it gives you a perspective on how polarised this world of ours is. 
Recent modelling data, giving way to a better understanding of the role of clouds, suggests that the climate is considerably more sensitive to carbon emissions than previously believed, and experts said the projections had the potential to be "incredibly alarming", though they stressed further research would be needed to validate the new numbers.
Climate sensitivity is the holy grail of climate science. It is the prime indicator of climate risk. For 40 years, it has been around 3C. Now, we are suddenly starting to see big climate models on the best supercomputers showing things could be worse than we thought.
Using the Tools of Climate Investing to Battle Injustice
Now and then I find myself looking around on the financial market searching for investment tools that can be used to battle injustice. And then, finally, I found something. I came across the ladies at Robasciotti & Philipson in San Francisco, and I got very, very impressed with how they see it. Take a look for yourself.
And… that's it for now. Enjoy the Sunday. And do make sure to spread the word about my little newsletter.
Best regards, Sasja Beslik