Discover more from ESG on a Sunday
The best ESG-related insights this week
Over 4,000 subscribers
Week 27: Climate crisis, water wars and rays of hope in Africa
Africa edition: Toxic oil extraction, water wars, child mortality, Chines investments and hope from the sun.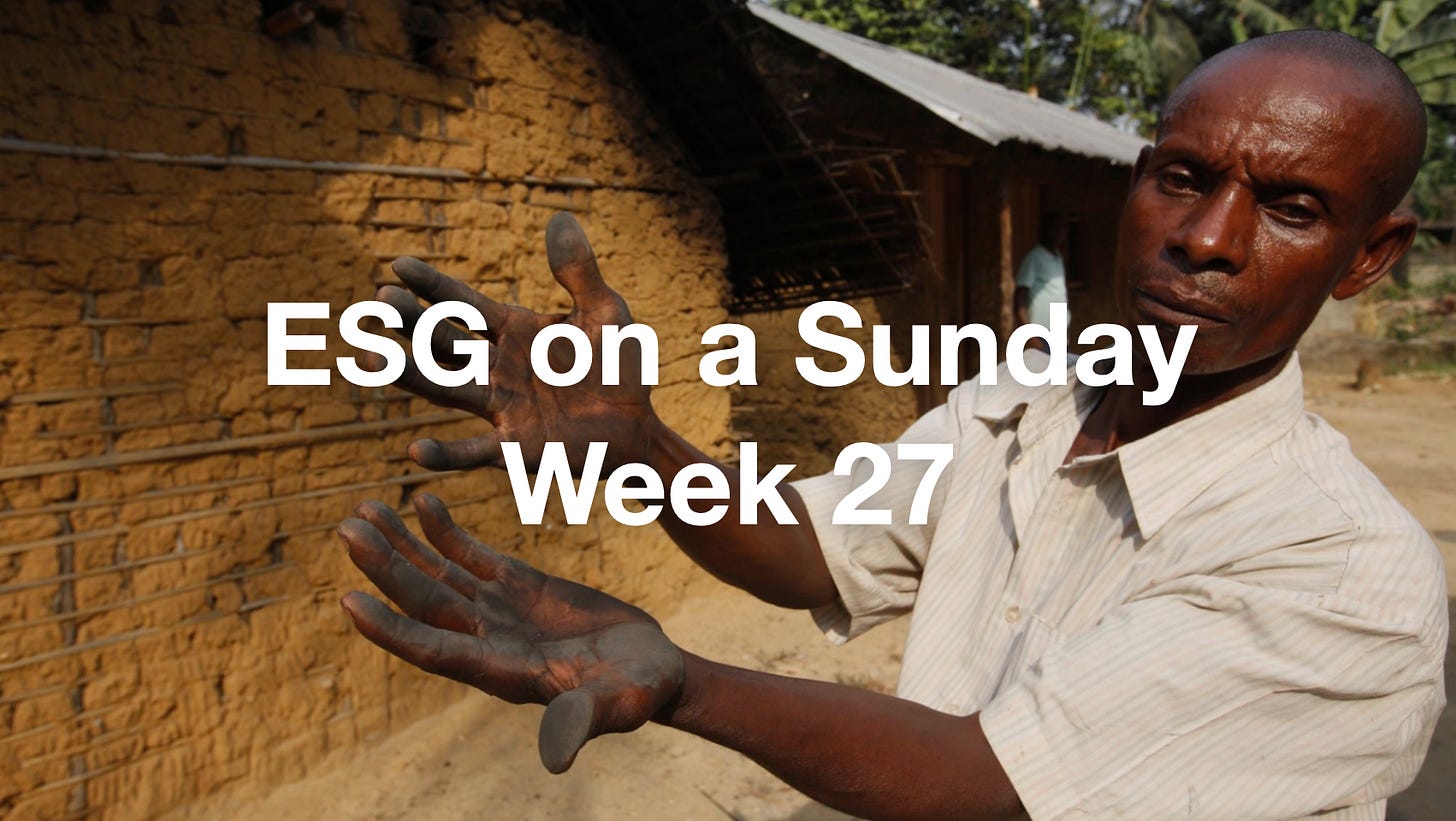 Dear subscribers, 
I hope everyone is well and ready for a new round of 'ESG on a Sunday'!
This week's edition is all about Africa.
As you will see, all is not well in Africa. But there's reason for hope.
The toxic story of African oil
The history of oil extraction in Africa is both long and cruel. Millions of people have been affected by it over the last 60 years.
When I visited Nigeria for the first time, in 2003, I spent 3 months on the ground in the Niger delta to evaluate the socio-economic impact of the oil business. I remember the toxic smell and the faces of people that lived in the dwellings close to the rivers and streams. That hopeless, sad look. Almost like a silent scream.
The colours of the African night sky was lit by flared gas burned up during extraction.
But most of all I remember the Mordor-like landscapes where oil spills, negligence and destruction caused havoc.
This article is a very good deep dive into the situation on the oily African ground. 
Climate change and water wars
We stay in Africa. There are many, many challenging developments on the African continent directly related to climate change.
Energy and water resource struggles, in many shapes and forms, are increasing every year. New conflict areas are emerging as a result, and if the situation is mismanaged it could lead to war.
In this video you get a good overview what is at stake between Egypt and Ethiopia, and what it could lead to.
The issue of child mortality
Next there's the issue of child mortality in sub-Saharan Africa. Why does child mortality continue to be so high? Is it due to famine or are there other reasons?
In this article from Stanford it is linked very clearly to air pollution, stating that air pollution is a major cause of infant deaths in the region.
The sun always shines
But there is a hope for Africa in many ways. First and foremost: Africa has an abundance of sun, and if the continent is developed in a smart and sustainable way, the sun will be able to provide millions and millions of people with clean and cheap energy.
I visited the Noor Ouarzazate solar plant in Morocco a couple of years ago, and it was a stunning thing to witness. Have a look at this video and sense the optimism.
China in Africa
We end this week's newsletter with a hot topic: China in Africa.
What is really going on with China's investments in Africa? In this very informative piece, the authors take a look at the numbers behind and explains what the implications are for Europe.
On that note I wish you a happy Sunday.
Also, I hope you enjoy my newsletter.
If you have any suggestions or feedback, don't hold back. Please let me know.
Best regards, Sasja