Discover more from ESG on a Sunday
The best ESG-related insights this week
Over 4,000 subscribers
Week 29: The growing threat of methane
Methane is a growing threat. Mexico moves into the shadows. Warren Buffett believes in natural gas. Fast fashion strikes again. And Vice.com is great.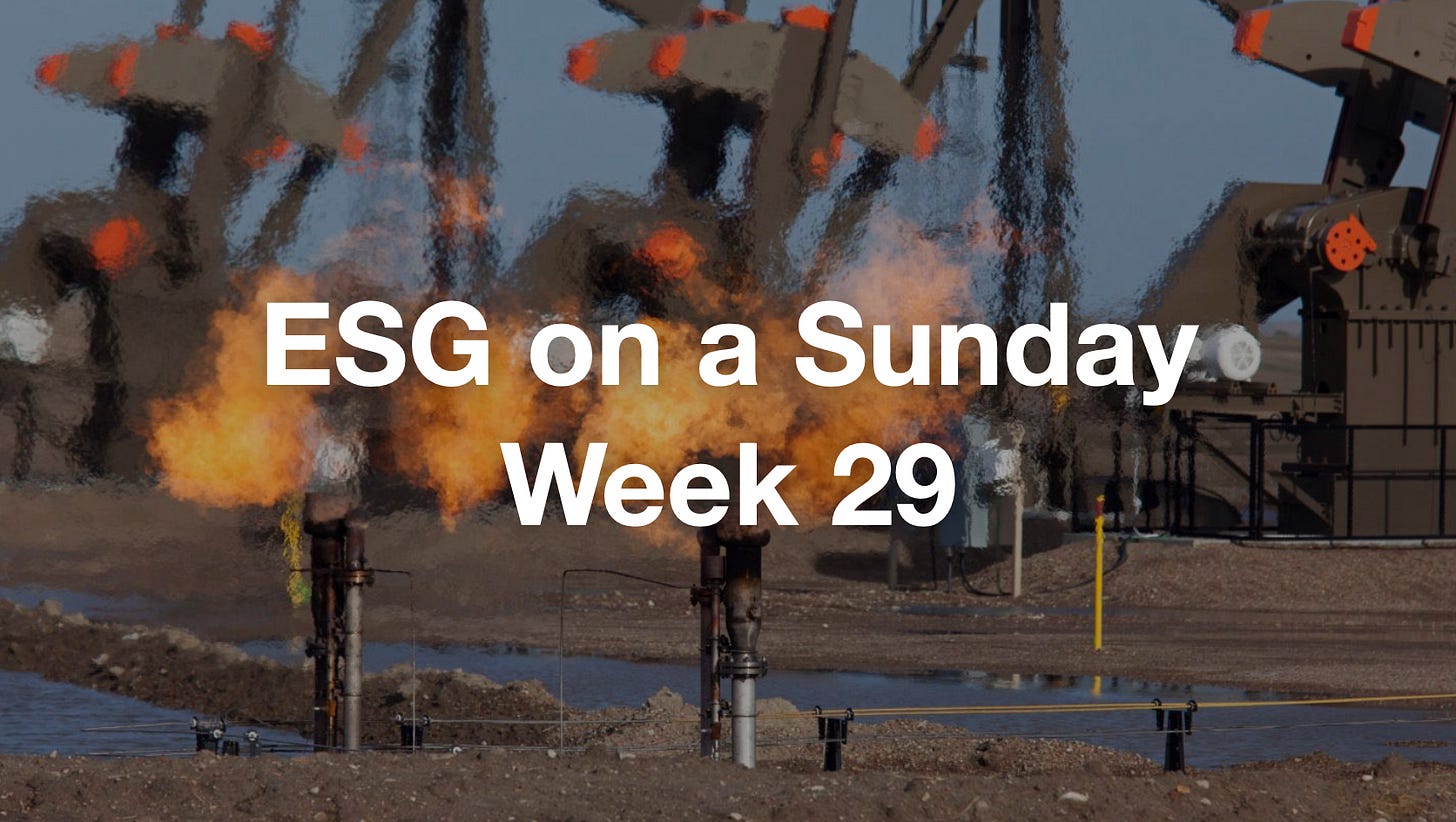 Dear all,
It's time for another edition of ESG on a Sunday.
Methane is a growing threat
We start this week with the latest report on emissions caused by methane, a potent greenhouse gas.
Stabilisation of the ongoing climate emergency is heavily dependent on how we manage the enormous increase in methane emissions. And yet, global emissions of methane soared to a record high in 2017, the most recent year for which worldwide data are available. 
The authors behind the report warned that the rise — driven by fossil fuel leaks and agriculture — would most certainly continue despite the economic slowdown from the coronavirus crisis, which is bad news for efforts to limit global warming and its grave effects. Their findings underscore how methane presents a growing threat.
"There's a hint that we might be able to reach peak carbon dioxide emissions very soon. But we don't appear to be even close to peak methane," said Rob Jackson, an earth scientist at Stanford University, and one of the authors of the report.
Mexico in the shadows
We move all the way to Mexico and the incredibly sad development in this country related to renewable energy. Mexico has plenty of sun. But Mexico also has a government that stays in the shadows. 
President Andres Manuel Lopez Obrador has recently taken steps that would block some existing wind and solar power projects and make it harder for new ones to get going. The major justification for the new rules is that Mexico must protect the integrity of the electrical grid. The government says there have been grid failures in southern Mexico, but so far has not identified any of the companies involved.
An analysis by environmental think tank Plataforma Mexico Clima y Energia (PMCE) found no specific failures attributable to renewable generators over the month of April, when Mexico's virus lockdown came into effect.
In the eyes of many investors, however, the pandemic is only a pretext. They see the limitations on renewables as just another example of Lopez Obrador trying to stifle private investment in order to protect large, state-run companies, like public utility Comision Federal de Electricidad, known as CFE.
Read more in this article from Bloomberg.
Warren Buffett believes in natural gas
We stay on track, things are interconnected. From methane and renewables to natural gas and Warren Buffett.
These years, the energy industry is under increasing pressure from public officials and investors to abandon coal and natural gas. The use of natural gas for power generation, once hailed as a cleaner, cheaper alternative to coal, is now projected to drop to 36% in 2021 from 41% this year.
In the last decade, prices for solar and onshore wind power have plummeted 90% and 70% respectively per megawatt-hour. And renewables now supply 20% of Americans' power needs, up from 13% five years ago, according to the U.S. Energy Information Administration. 
But despite, or, more likely, because of those trends, Buffett is now following his well-worn investing path—buying assets cheap in a buyers' market. Natural gas futures in the U.S. dropped last month to their lowest point in 25 years. Plus, he's one of the few buyers in a market where many utilities are searching for ways to get out.
This is an important article of opposing views on the future of natural gas. 
With Boohoo, fast fashion strikes again
As a reminder of fast fashions unsustainable business model – previously addressed in my analysis on H&M – a new case of grave misconduct has been discovered at UK based company Boohoo.
Online clothing retailer Boohoo is the latest company to find itself on the receiving end of press reports alleging modern slavery, exploitation and abuse of factory workers in supply chains. 
Workers in a factory supplying Boohoo were found to be working for substantially less than the UK minimum wage of £8.72 per hour, with reports as low as £3.50 being quoted in some newspapers. 
Central to the online shopping experience is the ability to access vast ranges of clothes at affordable prices, next day delivery, and easy returns.
It's a very nasty business model, we know it, and question is if and how it can be transformed. And who will be willing to pay for it?
Investors are selling Boohoo shares now. They could have intervened far earlier, as always. Read the piece in Guardian for more on this story.
And a more general media recommendation
Finally, we end this week with the recommendation to, when time permits, visit Vice.com's section on climate change. Here, you will find some great articles and videos on climate change related development (or lack thereof).
Here, we get some rare insights from different parts of the world!
That's it for now. Have a great Sunday.
All the best, Sasja