Discover more from ESG on a Sunday
The best ESG-related insights this week
Over 4,000 subscribers
Week 30: CEO's are not qualified to lead us into a sustainable future
Businesses fear drastic climate change policy. Europe's Green Deal is quite a deal. CEOs are qualified to make profits, not lead society. Australia's water is vanishing. And my keynote from Iceland.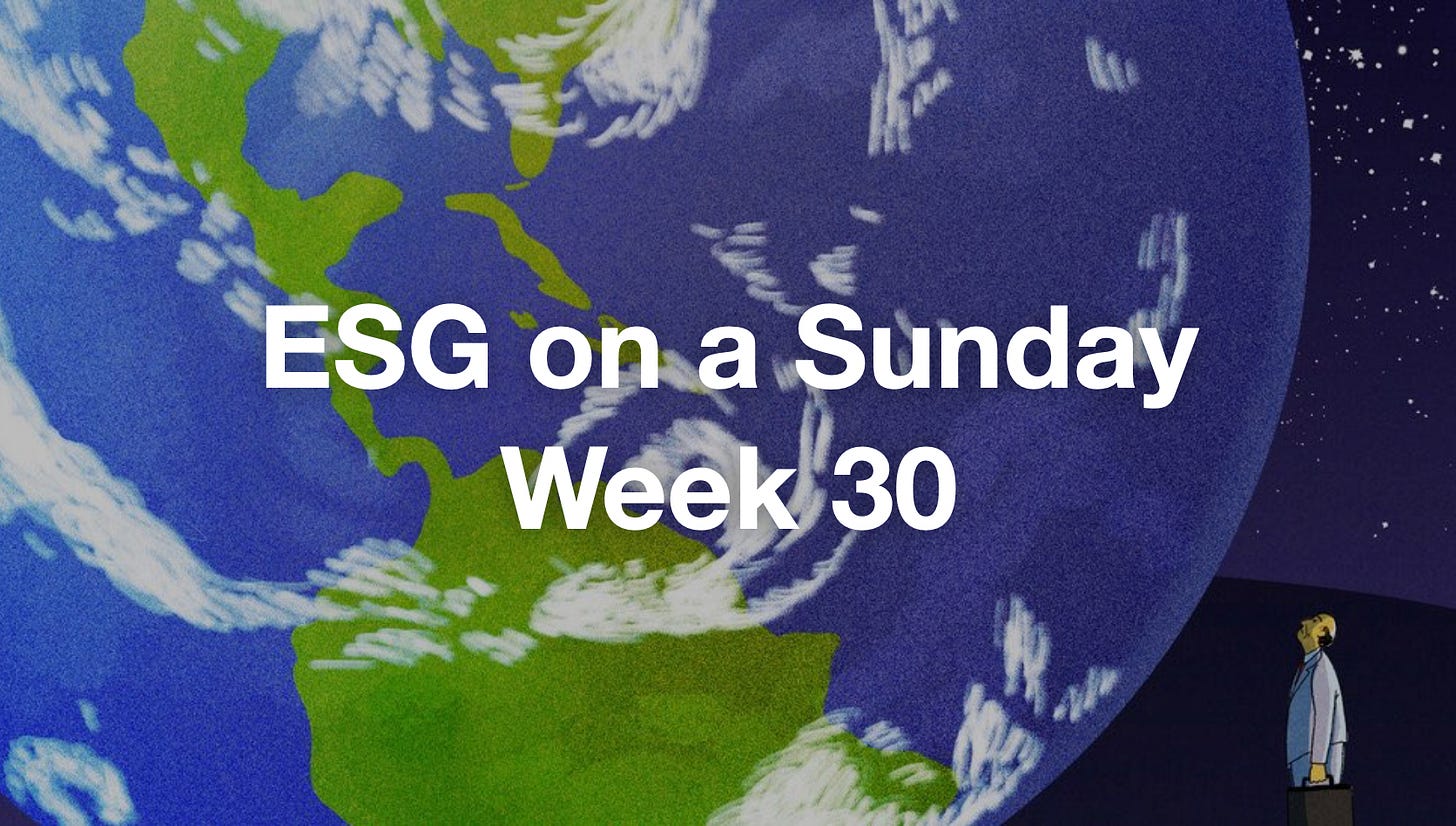 Dear subscribers,
I hope everyone is well and ready for another edition of 'ESG on a Sunday'.
If you like what you read, don't hesitate to share it with your colleagues and peers.
Businesses fear drastic climate change policy
This week we start with governments and the action needed to speed up the green transition. Yes, they are late, and yes, there is much to be done. But how will the next policy changes affect business?  
Government action to tackle climate change has so far been highly insufficient to achieve the commitments made under the Paris Agreement. And the market's default assumption appears to be that no further climate-related policies are coming in the near term.
Yet as the realities of climate change become increasingly apparent, it is inevitable that governments will be forced to act more decisively than they have so far.
This article gives us an insight into what various voices in business are thinking, and that there is a very real worry about the upcoming policy changes. 
Europe's Green Deal is quite a deal
On that topic, we need to address EU's recovery plan after COVID-19. The European Commission President Ursula von der Leyen likes to compare her Green Deal to "Europe's man on the moon moment."
That's almost certainly a galactic understatement.
Cutting the Continent's emissions to "net zero" — meaning Europe would sequester at least as much greenhouse gases as it produces — by 2050 will require a radical overhaul of nearly every aspect of the modern economy.
Dramatic cuts in carbon will wipe out entire industries, transform others and force people to change the way they eat, work, live and travel.
This article gives a good overview and analysis of what it means, and what is missing.
CEOs are qualified to make profits, not lead society
We move on to people. After all, it's all about people and leadership.
This is like a mantra and it is often mentioned and usually reiterated all over the world. It's about people. And it's always about leadership.
But how are politicians, business leaders and representatives for transnational organisations equipped to do their job? Are CEO's really equipped to transform their business to a sustainable future?
Read this great article in New York Times on a topic that is very much connected to an ongoing debate in the U.S. on ESG and fiduciary duty.
BTW: When you read it, make sure to also read this too to get some academic context.
Australia's water is vanishing
Every week we have a closer look around the world on emerging topics. This week it's Australia's turn.
I have visited this country many times to understand the impacts of climate change related to people and nature. Several years ago I visited a number of farms around Australia to film and document the impact of droughts.
It was clear then and even more now that Australia will suffer a great deal from the consequences of climate change. In this article you get a very thorough picture of the upcoming water shortages – and the systemic reasons linked to it. 
Watch my keynote from Iceland 🍿
Finally, from my own world, I invite you to watch my keynote from the Iceland Business Forum 2020.
Happy reading & happy Sunday! 
Best regards, Sasja