Discover more from ESG on a Sunday
The best ESG-related insights this week
Over 4,000 subscribers
Week 34: World's governments are increasing fossil fuel production
World's governments plan to increase fossil fuel production. Rapid ice loss in Greenland. Chernobyl redux. And Earth Overshoot Day has moved back by 3 weeks.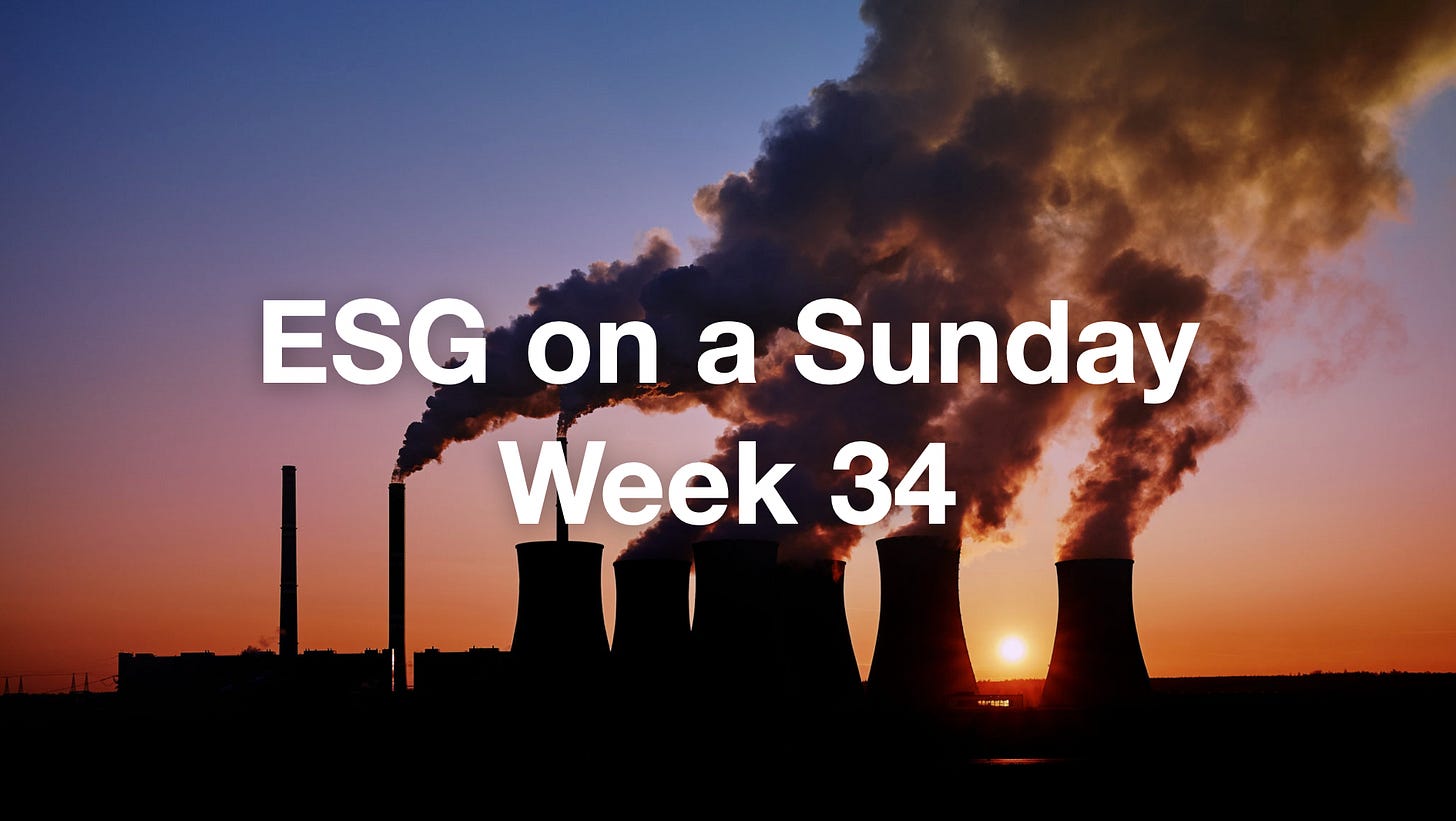 Dear all,
I want to apologise and warn you right away: What you are about to read is truly bad, if not downright scary.
World's governments plan to increase fossil fuel production
As it turns out, governments are planning to produce about 50% more fossil fuels by 2030 than what would be consistent with limiting warming to 2°C. And 120% more than would be consistent with limiting warming to 1.5°C.
Collectively, countries' planned fossil fuel production not only exceeds 1.5°C and 2°C pathways, it also surpasses production levels consistent with the implementation of the national climate policies and ambitions in countries' NDCs (nationally determined contributions). As a consequence, the production gap is wider than the emissions gap.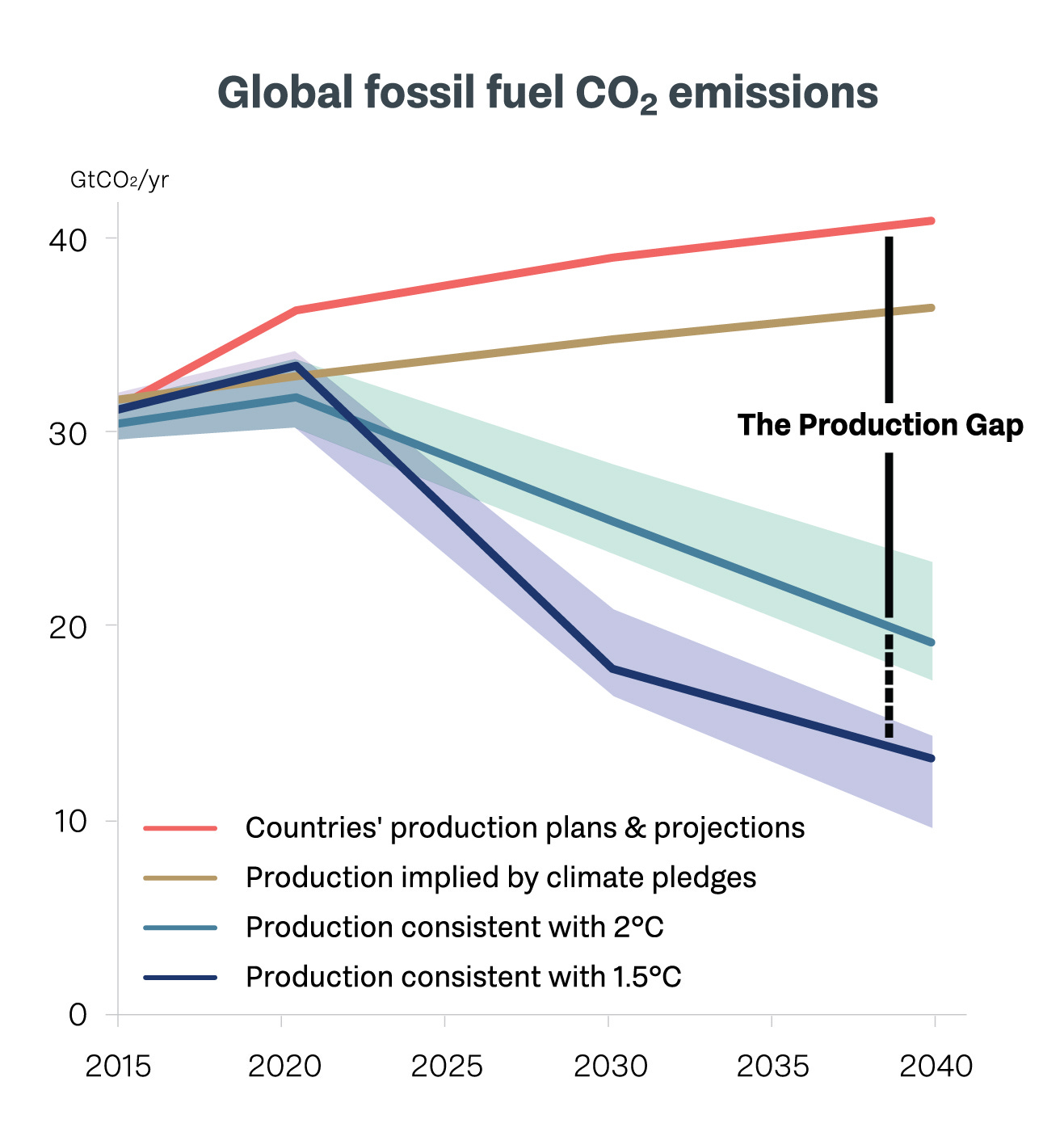 Governments support production in numerous ways. They not only play central roles in the permitting of exploration and production; they also support the fossil fuel industry through direct investments, research and development funding, tax expenditures, and assumed liability and risk.
This report reviews specific production plans, outlooks, and support mechanisms in 10 key countries: seven top fossil fuel producers (China, the United States, Russia, India, Australia, Indonesia, and Canada) and three significant producers with strongly stated climate ambitions (Germany, Norway, and the United Kingdom).
Indeed, though many governments plan to decrease their emissions, they are signalling the opposite when it comes to fossil fuel production, with plans and projections for expansion. This hinders the collective ability of countries to meet global climate goals, and it further widens not just the production gap, but the emissions gap as well. It is a race to the bottom.
The stakes couldn't be higher, for our economy and our environment. Mass unemployment continues to rise, as the window for avoiding the worst effects of climate change continues to close. The decisions governments make now and over the months ahead will have profound economic and environmental consequences for generations to come.
We already know this. How hard can it be? What year are we going to start seeing emissions fall on a dramatic basis? The choice is ours to make.
R
apid ice loss in Greenland
We move on to that ongoing interconnected global climate emergency live session we know too well.
A couple of years ago I visited Greenland, saw melting glaciers, talked to the affected local population as well as scientists on the ground.
I felt small, very small, standing there in that vast landscape of melting ice, feeling the forces of nature, forces we still don't master although we've convinced ourselves for years that we do. That our technical, economic progress, our ability to master our world, will lead us further.
Standing on that melting glacier with sound of the melting ice I understood how wrong we are. The engine of nature seeks continuous balance. It's evolving over long periods of time, the pieces deeply embedded within each other in a constant dance.
We most certainly don't know how to dance. And we can't even hear the music.
Greenland broke its 2012 record for most ice loss last year by 15%. A startling sign that a major contributor to global sea-level rise may be accelerating.
On its own, ice loss from the world's biggest island is responsible for more than 20% of sea-level rise since 2005.
Read this new study on the rapid ice loss in Greenland.
Chernobyl redux 
Climate change – particularly intense heat – is advancing so rapidly that it poses physical as well as credit risks to America's ageing nuclear fleet, a new report from Moody's Investors Service finds.
"Our plants are fairly hardened to severe weather," said David Kamran, the lead author of the report. "But climate change is moving quickly."
The group evaluated the potential effects of heat stress, water stress, hurricanes, flooding, and rising sea levels on 57 U.S. nuclear power plants over the next 20 years.
Nuclear plants are cooled by water, and in times of intense heat and drought, water resources can become either too warm or too scarce, forcing shutdowns.
The report predicts that nuclear plants in the Rocky Mountain states, the Colorado River region, and California face the highest levels of water stress risk going forward.
And the good news…
After all of this we need to end on a positive note, even if it's only down to three weeks: Earth Overshoot Day has moved back from 29 July in 2019 to 22 August this year!
The reason we all know. The rate at which we're consuming the Earth's resources has declined sharply this year due to Covid-19, according to researchers.
This three week shift between the dates in 2019 and 2020 represents the greatest ever single-year shift since global overshoot began in the 1970s.
Since then, rising populations and increasing levels of per capita consumption have seen Earth Overshoot Day move earlier into the year, with the date arriving in July for the first time in 2019.
Maybe we should just celebrate now? Well, maybe. But that would mostly be because we need to restore some positive energy in our lives.
The real issue is of course that this year's improvement is solely down to Covid-19 and the subsequent lockdowns. Unless there is a significant change in the way we act, the situation is likely to return to normal, or worse, in the following years.
That's it for now. Happy Sunday reading everyone!
Best regards, Sasja