Discover more from ESG on a Sunday
The best ESG-related insights this week
Over 4,000 subscribers
Week 35: We're still addicted to coal
The green transition is happening, but it's too little and too slow. We face major challenges with regards to coal in India and China. And with regards to the power grid.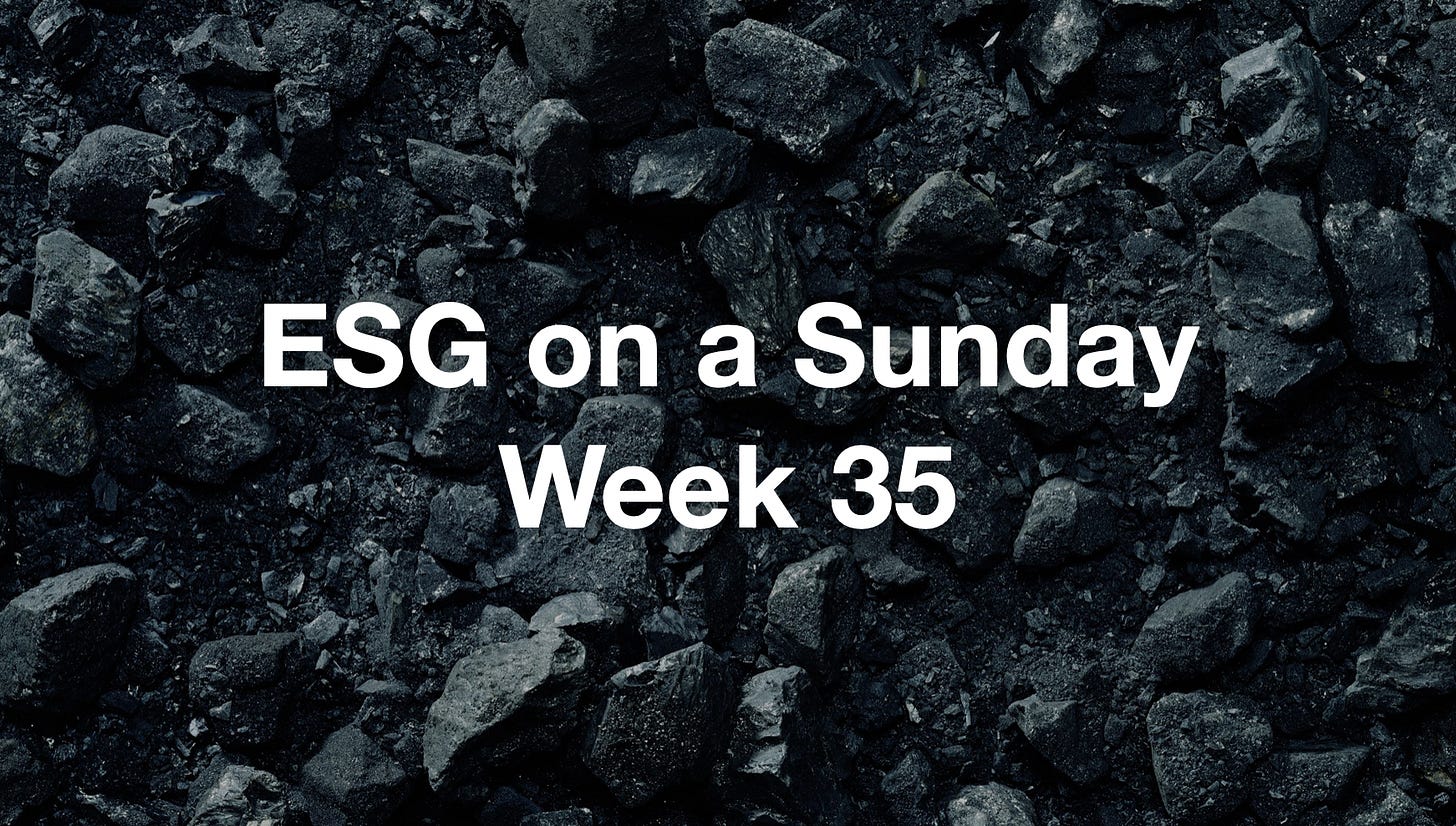 Dear all,
I hope everyone is well and ready for a new edition of 'ESG on a Sunday'. 
This week is all about energy. We need energy, and we need a lot of it.
Understanding energy
Changing demographics, increased consumption and digitalisation. There are many, many reasons why we should all have a good understanding of the state of the energy supply and demand in the world. That's sort of the centre of gravity that most of the solutions to tackle climate change circulate around.
Policy makers are having to make hugely consequential decisions in a very short space of time as they draw up stimulus packages. But let's call a spade a spade. The world is still addicted to coal.
Coal is one of the biggest sources of carbon emissions and a key driver of climate change. But it's also abundant, easy to transport and convenient to store. The power and the heat it generates have helped lift millions of people out of poverty. Developing countries, notably India and China, say access to cheap electricity from coal is crucial to economic growth.
Despite widespread calls to curb usage, coal is so entrenched that global consumption increased slightly in 2017 and 2018, reversing two years of modest declines. Coal is the world's biggest source of electricity, generating almost 40 percent of it, and demand is expected to remain steady for decades.
The attraction of coal
Coal's dominance is sustained largely by its widespread use in Asia. China, the world's largest consumer of coal, tripled its use from 2010 through 2017, while India, the No. 2 user, more than doubled the amount it burned. India's consumption is expected to rise by another quarter by the end of 2023, while China's is projected to fall almost 3 percent, in part because of the country's ambitious clean energy plans.
To limit global warning to below 2 degrees Celsius, as the world's governments agreed to do under the landmark 2015 Paris agreement, global coal consumption would need to fall by more than half, according to the International Energy Agency (IEA).
Instead, it's expected to remain roughly flat through 2040.
In some ways, that's the triumph of economic priorities over environmental ones: Coal remains attractive to developing countries that need to meet galloping demands for electricity, especially in Asia, where natural gas is relatively expensive. Solar and wind power don't ensure a 24-hour supply or fit easily into existing power grids.
Some industry supporters promote the idea of "clean coal" innovations: technological fixes such as carbon-capture systems that theoretically would remove as much as 90 percent of the emissions from power plants. But these remain unproven and expensive.
Pressure mounts on coal country India
How will the great country of India manage this? It's a country that – according to projections made by the UN's Population Division – will surpass China to become the world's most populous country by 2024. It's also a country where vast areas today do not even have access to electricity.
India has coal, and lot of it. India plans to auction 41 coal mines later this year. In the U.S. and Europe, coal is in decline, yes, but in year 2030, 33% of world population will be living in India and China.
I recommend you visit The Energy and Resources Institute's (TERI) website where you can find the most relevant information about the energy development in India.
The stakes are high, and India is under pressure to speed up the transition. A few days ago, UN Secretary-General Antonio Guterres said that India must invest in a clean, green transition and stop building coal infrastructure to aid the global fight against climate change and lift its citizens out of poverty. It must also end fossil-fuel subsidies, which are about seven times as high as those for clean energy, he said.
A once-in-a-lifetime opportunity?
It's not all bad. IEA recently launched a flagship report entitled "Sustainable Recovery", and it is one of the few great attempts to provide ideas on what we can do to make our energy future look much more balanced.
Dr Fatih Birol, IEA Executive Director, points out that "governments have a once-in-a-lifetime opportunity to reboot their economies and bring a wave of new employment opportunities while accelerating the shift to a more resilient and cleaner energy future."
On IEA's website I also recommend having a look at the latest statistics on the energy side to get an overall understanding. Are we on the way to shift our energy supply towards sustainable energy sources? Yes we are. But the scale is too small and the pace is too slow.
Also, if you need a more in-depth renewable energy split, this is the place where you can find most of it.
The power grid challenge
Renewable energy offers great hope for avoiding the worst consequences of a warming planet. Yet it's a massive challenge to redesign the existing grid — much of it decades old and built for fossil fuels — so it can efficiently utilise this energy. In the coming years, the challenge will only be compounded by rising temperatures.
The recent explosive growth of renewable energy sources may help keep temperatures from rising even faster, yet it also makes managing the grid more complex, as it requires integrating diverse energy sources subject to the fickle whims of clouds and winds. Rising temperatures and more extreme weather also make those sources increasingly prone to disruption.
Cultural anthropologist Gretchen Bakke of the Max Planck Institute for the History of Science in Berlin touched on the problem in her 2016 book "The Grid," which examined the history of the U.S. electrical grid and the complex interplay of technological, political, financial and cultural forces shaping its evolution.
In a recent interview she suggested that the most pressing challenge is to find ways to run a grid reliably when its power comes not only from central generating stations, but also from millions of distributed generating sources such as rooftop solar panels.
Many areas around the world have seen a surge in renewable energy capacity in the past decade. Yet if many individual sources send power to the grid at the same time or go online together, these coordinated changes lead to voltage surges that can damage power lines and transformers, while dips in supply lead to brownouts and blackouts.
Energy generation from natural gas or fossil fuels can be turned on or off on demand, but small photovoltaics only produce energy when it's sunny.
As temperatures rise, the efficiency of both energy generation and distribution is likely to suffer — power lines can't dissipate heat quickly enough, and components fail more frequently.
In a modelling study of Arizona's grid, it was estimated that every 1-degree-Celsius rise in temperatures will make key power-system components fail three times as quickly and make cascading power outages 30 times more likely.
So there's plenty to read and think about. Managing the energy is key in the transition to a sustainable and just future.
Happy Sunday reading!
Best regards, Sasja