Discover more from ESG on a Sunday
The best ESG-related insights this week
Over 4,000 subscribers
Week 36: How can we close the emissions gap?
Mind the emissions gap. Central bankers aren't using their climate superpowers yet. How to build a greener pension. And the problem with ESG ratings.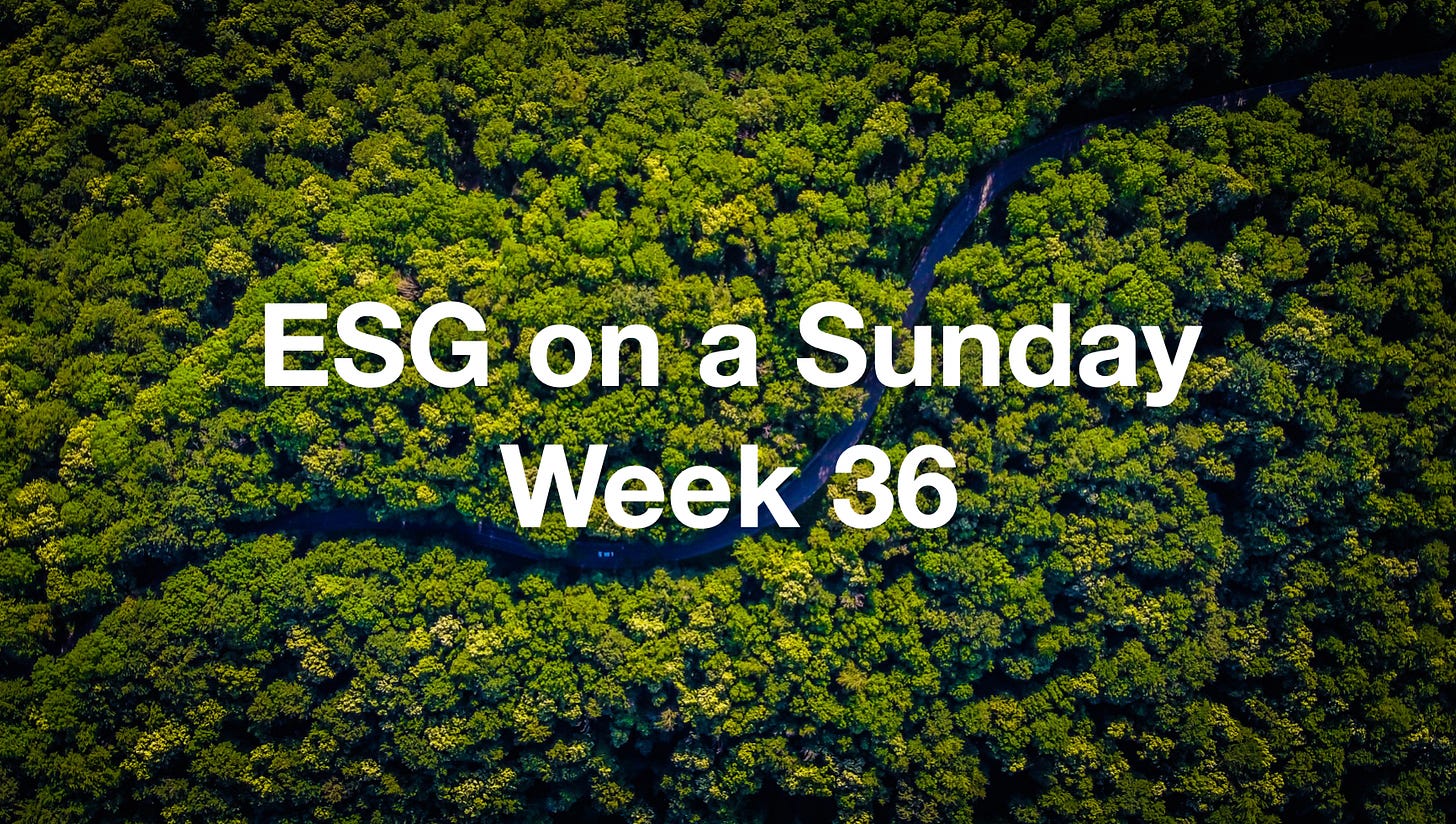 Dear all, 
I hope everyone is well and ready for a new edition of 'ESG on a Sunday'.
This week is about climate targets, climate policy and ESG ratings.
In short, it's about how we can close the emissions gap.
Mind the emissions gap
There's no point in diving into the "gaps" all the time. But it is obvious that we are not where we should be.
The best way to get an overview is to have a look at the latest UN Emissions Gap Report.
The report presents the latest data on the expected gap in 2030 for the 1.5°C and 2°C temperature targets of the Paris Agreement. It considers different scenarios, from no new climate policies since 2005 to full implementation of all national commitments under the Paris Agreement.
For the first time, it looks at how large annual cuts would need to be from 2020 to 2030 to stay on track to meeting the Paris goals.
Central bankers aren't using their climate superpowers yet
However you analyse the gap report, it's clear that climate policy isn't moving anywhere near fast enough to cut greenhouse gas emissions.
We know that's partly because it's been politicised: there's the pointless "debate" over whether climate change is real. And there's also its more sophisticated cousin that accepts the basic science of atmospheric warming, but deems action too expensive.
In this article you can read about what we really need on this challenging journey. And it has to do with central bankers.
Above and apart from above mentioned "debates" sit central bankers, the guardians—and occasional saviours—of our global financial system. They have been heralded as the new heroes of climate policy for simply accepting that climate change is both real and disastrous. Since 2015, when the then-governor of the Bank of England, Mark Carney, delivered an entire speech about climate change, central banks have organised via the Network for Greening the Financial System.
Yet, central banks still grapple with the "political" aspect of climate change and if they want to do what's necessary anywhere near quickly enough to prevent the most severe global warming scenarios.
How to build a greener pension
But there are things we can do to speed up the transition, and one of them is to look at the pensions and the way they are invested.
Few people are aware of what their workplace pension invests in, let alone how their pension provider incorporates environmental, social and governance (ESG) matters into the process.
But there is good news for those wanting a greener pension: a raft of legislation is now driving a greater focus on sustainability. You can read more here. 
What's wrong with ESG ratings?
It's an open question whether ESG issues will remain as salient to investors during a global pandemic and the associated economic downturn. But I think they will.
That's also what the author of this great must-read article thinks. In the piece you can read why that is the case and what the latest research from Harvard tells us on the subject. 
But are ESG scores the best way to get us to a more sustainable future? Are they enough to achieve a net-zero future?
No, they are not, we know that. Just like in traditional investing, there are dozens of strategies you can use to be an ESG investor. There are funds that pick the best-rated low-carbon companies; funds that focus on companies with more women on boards; and funds that use a series of ratings and checklists to ensure the stocks they are betting on are "better" than the rest of the market.
The confusion over what ESG strategies actually do has been a hot topic this year, and part of the issue is that investing to match your values is actually pretty different from methodically picking out the companies best able to survive in a sustainable, climate-aligned future.
These days, it can seem as though no one has a good word to say for ESG ratings. Are they really so unfit for purpose? And if so, why are investors still using them?
Read more in this piece from Bloomberg as well as this piece from Euromoney.
Happy Sunday reading!
Best regards, Sasja