Discover more from ESG on a Sunday
The best ESG-related insights this week
Over 4,000 subscribers
Week 38: The appallingly bad neoclassical economics of climate change
Also in this issue: ▸ BP's vision for the end of oil ▸ Challenges in the battery metals sector ▸ Greenwashing among asset managers ▸ Why we are failing to respond to climate change.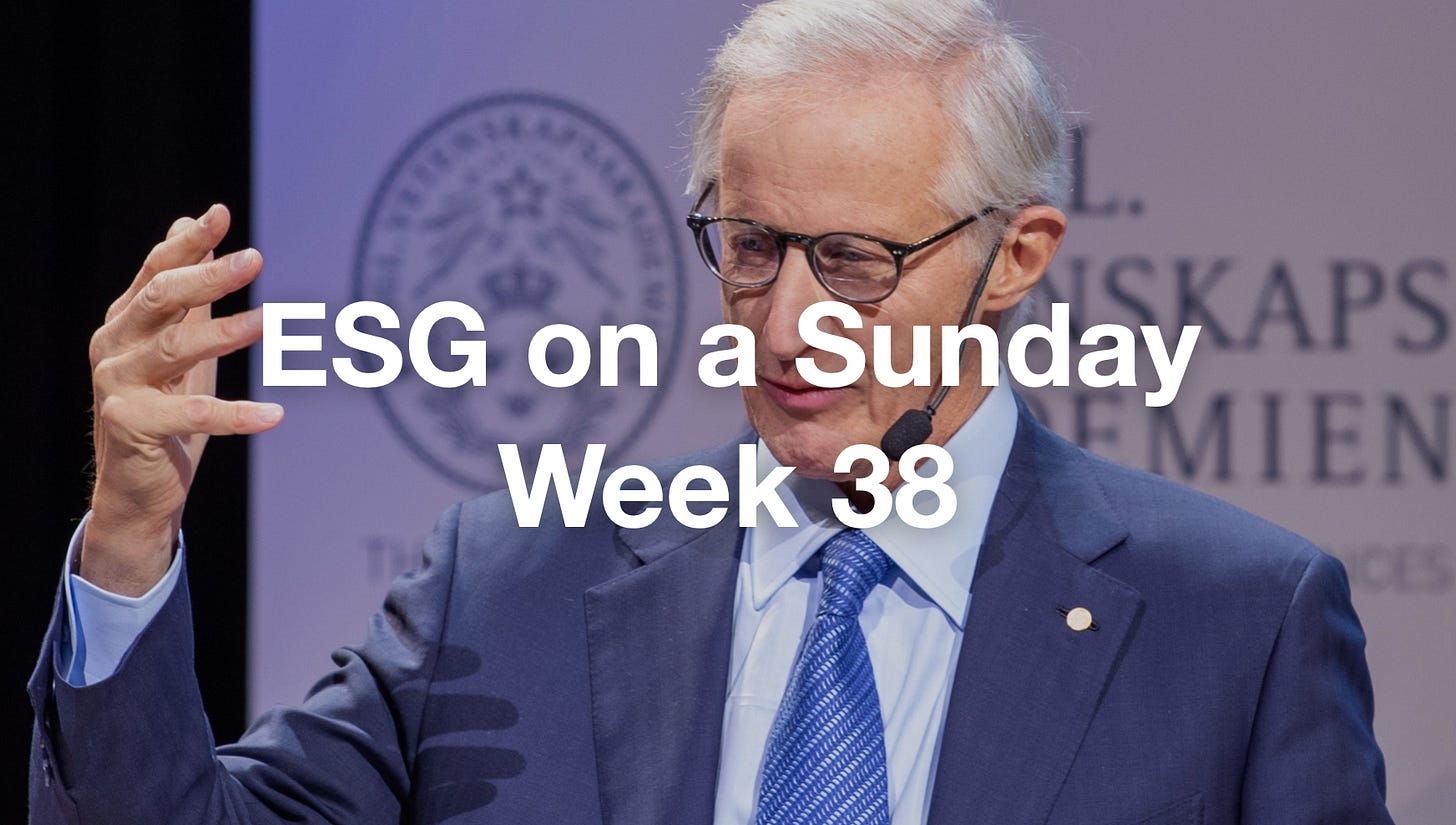 Dear all,
I hope everyone is well and ready for a new edition of 'ESG on a Sunday'!
The bad neoclassical economics of climate change
This week we start with the very interesting and growing discussion about the bad neoclassical economics of climate change.
In 2018, William Nordhaus was awarded the Nobel Prize for his work on the economics of climate change. However, there seems to be little doubt that Nordhaus has misrepresented the scientific literature to justify using a smooth function to describe the damage to GDP from climate change.
This is no small issue. If we correct for these errors we see that the economic damages from climate change are at least an order of magnitude worse than forecast by economists. They may even be so great that they threaten the survival of human civilisation.
In general, forecasts by economists of the economic damage from climate change have been notably sanguine, compared to warnings by scientists about damage to the biosphere.
This is because economists made their own predictions of damages, using three spurious methods:
Assuming that about 90% of GDP will be unaffected by climate change, because it happens indoors;

Using the relationship between temperature and GDP today as a proxy for the impact of global warming over time;

And using surveys that diluted extreme warnings from scientists with optimistic expectations from economists. 
Read more in this piece published in the journal Globalizations. If you find it too long to read, you can listen to it instead.
BP's vision for the end of oil
We move from theory to practice. What happened the past week clearly indicates that we are now on the brink of a tectonic shift in the oil and gas sector.
BP is probably the first oil major that has made concrete plans for the end of oil – or at least the shrinking of its role. The company announced a big strategic pivot last month that would see it turn from an "integrated oil company" to an "integrated energy company."
BP plans to cut its oil and gas output by about 40% over the next decade and increase its renewable energy generation capacity twentyfold.
It's also given up on luring investors with the high dividends of the past, cutting its pay-out in half and lowering its expected returns on capital from the low-to-mid double digits that conventional oil once achieved to a more modest 8% to 10%, closer to what big renewable energy investments yield.
Read more in this piece from Bloomberg.
Batteries are the new oil
We move on to the "new oil" which in many cases is related to metals. It cannot be disputed that with the 4th Industrial Revolution and the global push for energy transition upon us, the need for battery materials is becoming stronger than ever. However, pressure is rising from investors, regulators and social activists.
From this webinar it's apparent that innovation and scaling-up is a must to move forward within the battery metals sector.
In a sector where investors' questions have changed a great deal over time, it's vital that they find a way to build efficiency into the operating business model.
The webinar also touches upon what the longer-term impacts of COVID-19 will be on industry supply and demand.              
Watch the webinar. It's very informative. 
Greenwashing among asset managers
Last week I focused on beyond ESG and the need to have some kind of balanced assurance or validation that what is said is actually done. The future of the ESG investment industry depends on it.
Netherlands is a very mature ESG market. As such it also has capacity and stamina to truly assess if asset managers walk the talk. And as it turns out… they don't.
This week the news came out that Dutch pension funds accuse asset managers of greenwashing. This is quite a big thing. Some asset managers do not invest as responsibly as they claim, a number of the Dutch pension funds said.
In a survey among 31 Dutch pension funds carried out by Dutch pensions publication Pensioen Pro, six in ten Dutch pension funds agreed with the statement that some asset managers engage in greenwashing.
None of the participating pension funds, with combined assets under management worth €1.2trn, disagreed with the statement that greenwashing is a problem.
Wilderness disappears, palm oil in biodiesel on record high
Wilderness across the planet is disappearing on a huge scale, according to a new study that found human activities had converted an area the size of Mexico (!) from virtually intact natural landscapes to heavily modified ones in just 13 years.
The loss of 1.9m square kilometres (735,000 sq miles) of intact ecosystems have have "profound implications" for the planet's biodiversity, the study's authors said. You can find it here.
And then you need to read this one too, and you will see that one plus one makes a very bad two. 
The amount of palm oil used in biodiesel has risen to a record high, despite new EU rules saying it must be phased out.
New data shows the amount rose to 4.5 million tonnes in 2019, an increase of 7%. Which means European truck drivers burned 100 times more palm oil than is contained in the world's supply of Oreo cookies…
Why are we failing to respond to climate change?
Why is it so hard, hard to find the consistent ways of action that we need in order to transform our societies?
Climate scientists have identified global warming as the most important environmental issue of our time, but it has taken over 20 years for the problem to penetrate the public discourse in even the most superficial manner.
While some nations have done better than others, no nation has adequately reduced emissions. And no nation has a base of public citizens that are sufficiently socially and politically engaged in response to climate change.
This brilliant paper summarises international and national differences in levels of knowledge and concern regarding climate change, and the existing explanations for the worldwide failure of public response to climate change, drawing from psychology, social psychology and sociology.
On the whole, the widely presumed links between public access to information on climate change and levels of concern and action are not supported.
The paper's key findings emphasise the presence of negative emotions in conjunction with global warming (fear, guilt, and helplessness), and the process of emotion management and cultural norms in the construction of a social reality in which climate change is held at arm's length.
And that's it for now. Happy Sunday reading!
Best regards, Sasja