Discover more from ESG on a Sunday
The best ESG-related insights this week
Over 4,000 subscribers
Week 39: China steps up in the fight against climate change
In this issue: ▸ Hydrogen is the new climate bet ▸ President Xi Jinping's announcement ▸ Climate change is a domestic challenge in China ▸ Moving ahead without the U.S. ▸ Chinese coal is a concern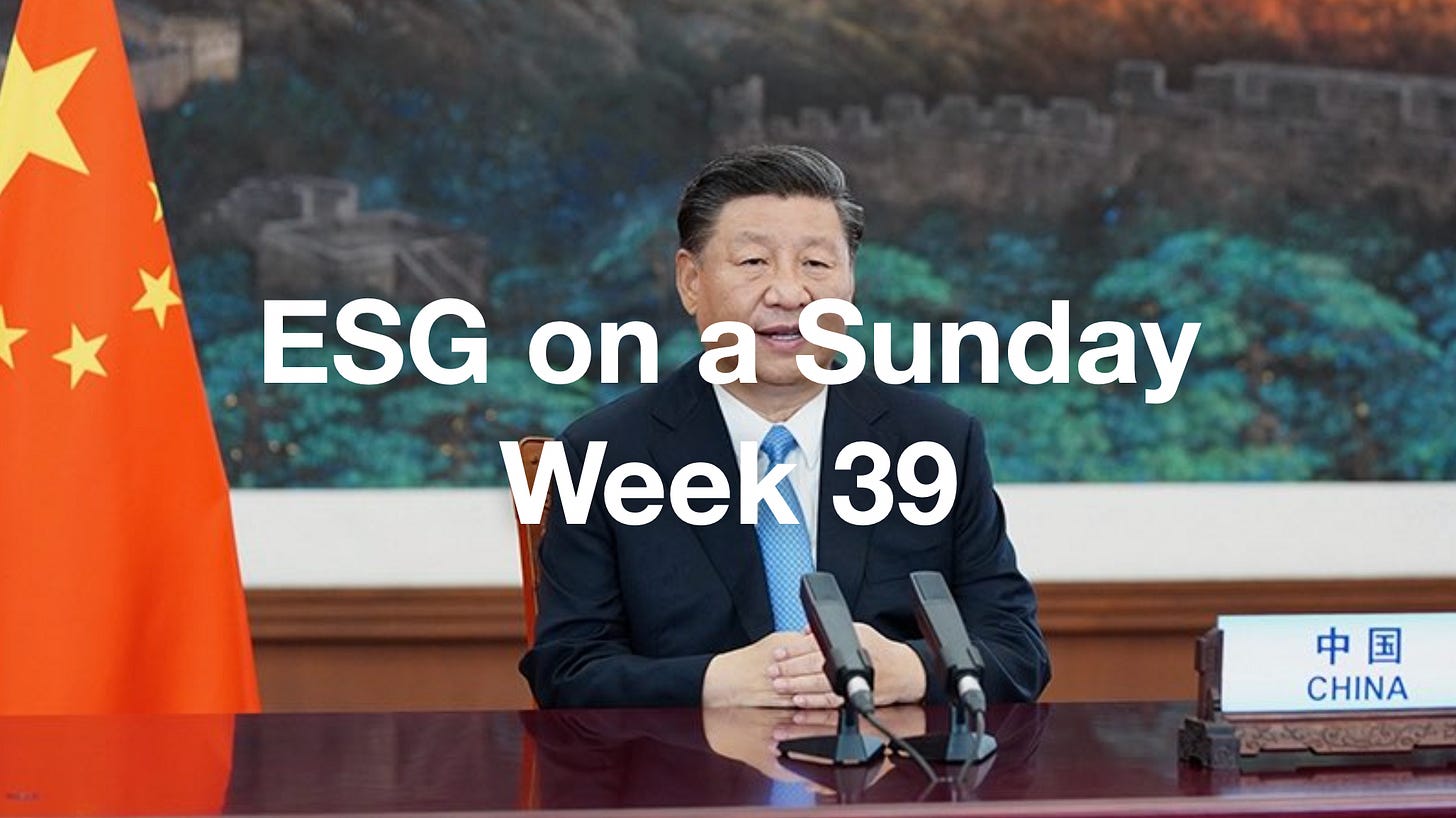 Dear all, 
I hope everyone is well and safe and ready for a new edition of 'ESG on a Sunday'.
This week, we look at the solutions side. There is this feeling – you can almost touch it sometimes – that everywhere you turn, climate solutions and discussions as well as new developments are taking place.
Yes, things are moving forward. The speed is not what it could be, but humanity is reacting to the challenges we're facing.
We start with new developments within energy, and after that it's all about China. 
Is hydrogen the hottest thing in green energy?
Manufacturing steel, cement and chemicals has traditionally required fossil fuels, either to burn to create the extreme temperatures needed, or as raw materials and catalysts for chemical reactions.
That's why hydrogen is becoming the new climate bet. It burns far more cleanly than fossil fuels, can stand in for carbon in some reactions, and so-called green hydrogen – gas produced using electricity from renewable sources – is essentially emissions free.
Hydrogen is also seen as a clean solution for fuelling cars, trucks and ships and heating buildings.
However, all that involves creating a new energy industry almost from scratch, and bringing costs down to competitive levels.
Read more in this article where you get most of the facts.
But, one important aspect is missing: Emissions of hydrogen lead to increased burdens of methane and ozone and hence to an increase in global warming.
Therefore, hydrogen can be considered as an indirect greenhouse gas with the potential to increase global warming.
You can learn more about the environmental challenges of hydrogen energy production here.
President Xi Jinping and China's climate trajectory
And now on to China and President Xi Jinping's historic speech at UN's General Assembly this week. I think we should all read his statement. It took some time, but I found it here.
Xi Jinping opens his speech this way:
"We humans are battling COVID-19, a virus that has ravaged the world and has kept resurging. In this fight, we have witnessed the efforts of governments, dedication of medical workers, exploration of scientists, and perseverance of the public. People of different countries have come together. With courage, resolve and compassion which lit the dark hour, we have confronted the disaster head on. The virus will be defeated. Humanity will win this battle!" 
So you get the picture. The contrast between Xi's speech and Trump's speech is stark, said Joanna Lewis, a Georgetown University professor who follows China's climate policies. While Trump's speech blames China for the world's problems, Xi's speech calls for global response and highlights China's contributions.
First, Xi said China would peak its emissions of greenhouse gases "before 2030" (but did not specify how soon). In the past, China has said its peak emissions would come "around" 2030, after which its total emissions would begin to decline.
Second, Xi said China would aim to achieve carbon neutrality before 2060. He was vague around exactly when that key threshold would be reached. There is scientific consensus that the world must reach carbon neutrality, sometimes referred to as net-zero emissions, by 2050 in order to have a reasonable chance of averting the worst climate hazards. This announcement therefore buys China some time. It's a strong message nonetheless.
Climate change is a domestic challenge in China
China is the world's biggest source of carbon dioxide, responsible for around 28% of global emissions. China's actions (or lack thereof) will in many ways determine the trajectory of human survival on this planet.
But the reason for Xi Jinping's focus on climate action is not only because China wants to position itself as a world leader. It's also because they face huge domestic challenges. China has seen faster temperature increases and rising sea levels than the global average rate over the past few decades. And they've experienced more frequent extreme weather events, according to official data. From 1951 to 2019, China's temperate rose an average of 0.24 degrees Celsius every ten years.
It's not every day that we read a report done by a Chinese scientist on climate change developments. But you can find one here, and unless you are fluent in Mandarin there's only the graphs to look at. But that's enough, they tell the story and it's not a pretty one.
Moving ahead without the U.S.
By playing the climate card a little differently than what what we've seen before, Xi has not only injected a much needed momentum to global climate politics, but has also presented an intriguing geopolitical question in front of the world: on a global common issue, China has moved ahead regardless of the U.S.
So what can China do now to stem emissions and remain a leader in the fight against climate change, while also maintaining socioeconomic development?
In most industrial sectors, 75% of greenhouse-gas emissions are produced from the supply chains. In a globalised world, this means China's emissions are generated to meet more than just its own rising demand.
Research conducted by Carbon Tracker finds that China's emissions could peak at 13 to 16 gigatonnes of CO2 between 2021 and 2025, making what the researchers call a "a great contribution" to meeting the Paris deal's goal of limiting temperature rises to 2°C.
However, CO2 emissions rose in 2018 and 2019, and the estimate is that in 2020 GHG emissions will increase by 0.8% in our upper bound and decrease by 7.7% in our lower bound compared to 2019 levels, with most of the drop due to the pandemic.
Chinese coal is a concern
China's coal activities remain a large concern and are inconsistent with the Paris Agreement. China would need to phase out coal before 2040 under 1.5˚C compatible pathways, but it appears to be going in the opposite direction.
After lifting a previous construction ban on new coal plants in 2018, China has rolled back policies restricting new coal plant permitting in each of the last three years. By mid-2020 China had permitted more new coal plant capacity than in 2018 and 2019 combined, bringing its total coal capacity in the pipeline to 250 GW, and brought 10 GW of new plants online.
China is going against the global shift away from coal and now possesses roughly half of the world's coal power capacity as well as coal-fired power plants in development.
China is the world's largest financier and builder of both fossil fuel and renewables infrastructure worldwide. Of all coal-fired plants under development outside of China, one quarter, or 102 GW of capacity, have involved funding from Chinese financial institutions and/or companies.
However, COVID-19 has – for now - curbed China's investments on fossil infrastructure overseas, and its share of  investment into foreign renewable projects has reached its highest-ever values. Find more info on this site.
How is the rest of the world delivering on the Paris pledges?
So, in conclusion, there's reason for some sort of optimism and hope despite the coal. It really seems China is reacting to the challenges we're facing.
Now the next question is: How is rest of the world delivering on all those pledges made in Paris?
You can find many of the answers in this is very nice read with good explanations and graphs.
That's it for now. Happy Sunday reading everyone!
Best regards, Sasja