Discover more from ESG on a Sunday
The best ESG-related insights this week
Over 4,000 subscribers
Week 40: It's time for a systemic change
In this issue: ▸ Why we need a systemic change ▸ Reducing consumption to levels of sufficiency ▸ The role of governments ▸ Who's to blame? ▸ The 'green economy' ▸ The cost of polluting needs to triple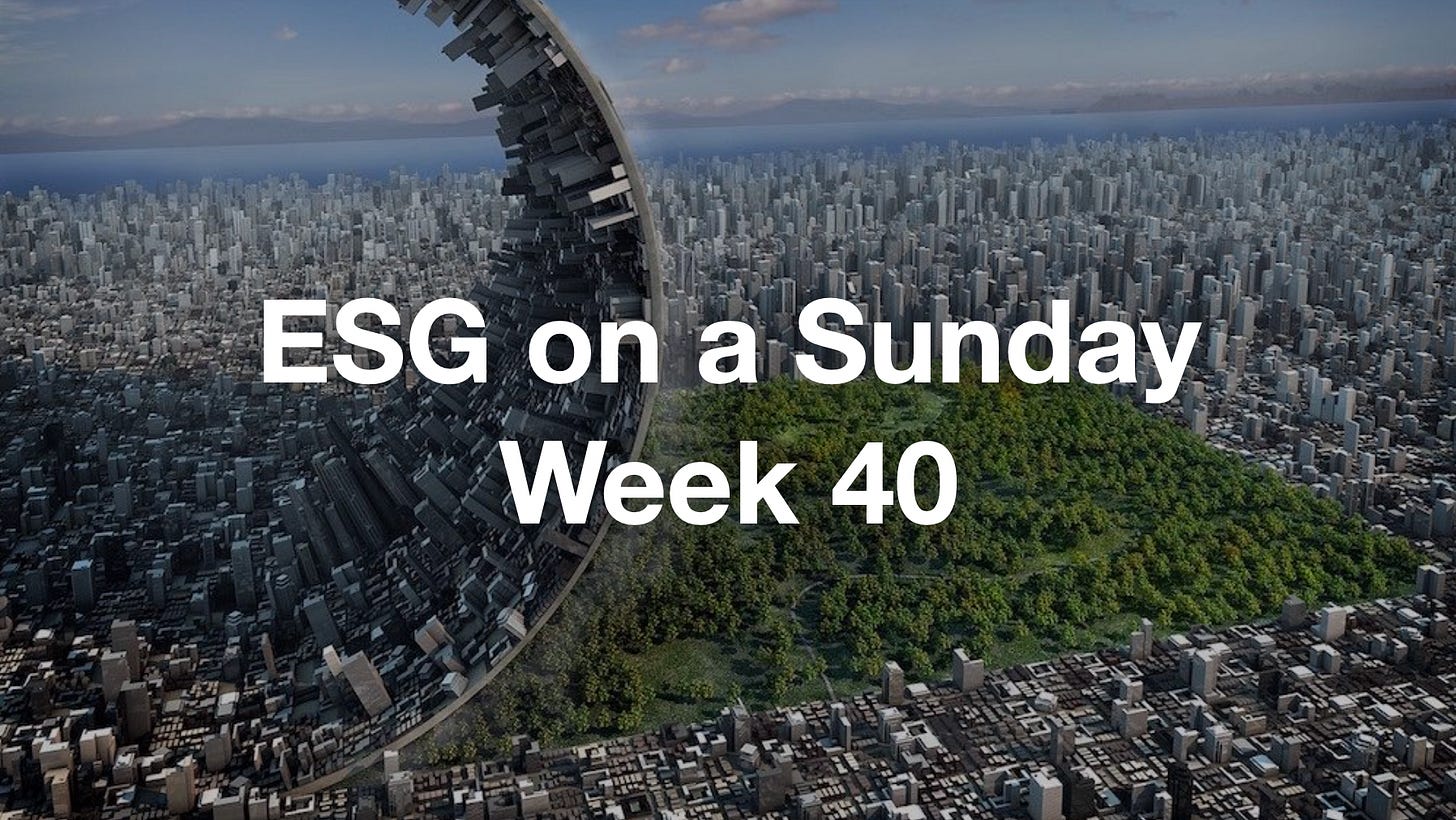 Dear all,
Welcome to a new edition of 'ESG on a Sunday'.
This edition is about systemic change and the need for courage and fresh thinking.
A systemic change and why we need it
Do we need a systemic change of our societies? The answer is probably always yes, because progress is always needed. But why we need it, what kind of change exactly and not least how we get there are far more complex questions to answer. 
Based on common knowledge as well as the scientific research we have today, it's clear that if we are to manage the transition towards a sustainable future we need to shift/develop/evolve/revolutionise our societal systems.
Carbon emissions are consequences. Political polarisation of our societies is a consequence. Nationalism, socio-economic inequality, all of it starts somewhere as a consequence of imbalance, lack of knowledge, ignorance, greed, culture, or prejudice.
It starts with us, it is about us, and it ends with us.  
We talk too often about the consequences and spend too little time understanding the reasons, understanding why things happen.
These are dire times and we need solutions now. Let's look at some different aspects of what the systemic change will most likely need to include.
Reducing consumption to levels of sufficiency
In this piece you can read some very interesting and groundbreaking research about how we can provide decent living with minimum energy. Energy consumption is one of the reasons why we are in trouble, and it's also where things need to happen.
It is increasingly clear that averting ecological breakdown will require drastic changes to contemporary human society and the global economy embedded within it. On the other hand, the basic material needs of billions of people across the planet remain unmet. In the piece, the authors use a bottom-up model to estimate a practical minimal threshold for the final energy consumption required to provide decent material livings to the entire global population.
One finding is that, if we use their model, global energy consumption in 2050 could be reduced to the levels of the 1960s, despite a population three times larger.
However, such a world requires a massive rollout of advanced technologies across all sectors, as well as radical demand-side changes to reduce consumption – regardless of income – to levels of sufficiency.
Sufficiency is, however, far more materially generous in their model than what those opposed to strong reductions in consumption often assume.  
The role of governments
Governments are here to stay. They carry systemic infrastructure for humans to organise life on this planet.
Government are us, most of the times. We choose them or allow their existence even when we don't participate. Systemic power and responsibilities (or lack thereof) of these governments influence generations and their paths through time.
But given the vast power of "dollarized" globalisations over the world's economies, can governments as rich as Germany's or as poor as Mozambique's even mobilise the finance needed for the transition to a liveable planet? Can governments cooperate to mobilise the finance needed by the world's poorest countries?
We know there are ample financial resources (savings) to pay for the transition, but do societies and their governments have the power to realise these resources?
This answer is a resounding yes. Because governments in fact own a substantial part of the world's fossil reserves, i.e. the reserves we currently use to fuel life regardless of what it means for climate emergency.
Around 200 companies in the world represent maybe around 15% of all fossil reserves on this planet. The rest is in the hands of governments.
When investors thought about how climate change might affect their portfolios a decade ago, their attention was usually focused on the companies they were investing in. How big was a firm's carbon footprint, for example, compared to its industry peers?
These days, people looking at climate risk are increasingly focused on a new problem: the assets issued by governments. Have a look at this article and see how things are moving in this space. And for even more information, have a look at this as well.
Now, if we are then to correlate this with the Paris Climate targets and what it acutely, systemically means for us,  you can get the data you need here. The short version: it's not pretty.
Who's to blame when the system is broken?
It's pointless to blame e.g. Extinction Rebellion activists for eating at McDonalds. Like in the TV show The Good Place, it's the system that's broken.
This is an interesting article that gives some perspective. It's biased, yes, but it provides an interesting perspective or framing of systemic change.
An important question regarding the climate emergency has to do with the role of individual action. Do individual actions have any impact at all when we need a systemic change? In this article you get some good arguments – and some hope.
What happened to the 'green economy'?
If you want to understand the thinking behind the 'green economy' concept, this is a brilliant piece of research. The 'green economy' project claims to address the social, economic and ecological crises afflicting the world today, yet there appears to be too little elite consensus for it to be viable in the near future.
In the piece, the authors suggest that this absence of elite consensus renders the 'climate justice' project similarly weak, leading to a retreat from the global sphere of the (emerging) global climate justice movement.
Yet on the ground there are strong and dynamic climate justice movements whose main challenge is to broaden their struggle beyond their current base and to create their own 'globality'.
The cost of polluting has to triple
Last week I mentioned hydrogen which is often cited as a potential/systemic solution for energy demand going forward. A short follow-up on the state of the play on the pricing side right now is in order.
According to a report by BNP Paribas Asset Management, the cost of polluting in the EU will need to triple to encourage emitters to use hydrogen instead of fossil fuels.
For the EU to meet its 2050 goal of climate neutrality, emitters in the transport, buildings and manufacturing sectors will have to shift from fossil fuels to clean hydrogen. That switch would need carbon prices to rise to around €79 a ton ($92.70 a ton), some €50 above the current price, according to research referenced here.
And that's it for now. We are not in an era of normal politics. There is no precedent for the climate crisis, its dangers or its opportunities.
Above all, it calls for courage and fresh thinking.
Happy Sunday reading!
Best regards, Sasja