Discover more from ESG on a Sunday
The best ESG-related insights this week
Over 4,000 subscribers
Week 43: Measuring the climate path of companies
In this issue: ▸ Measuring the climate path of companies ▸ Climate change in Bosnia and Herzegovina ▸ Will U.S. solar companies pull out of China? ▸ A climate hub for SMEs ▸ The next big ESG topics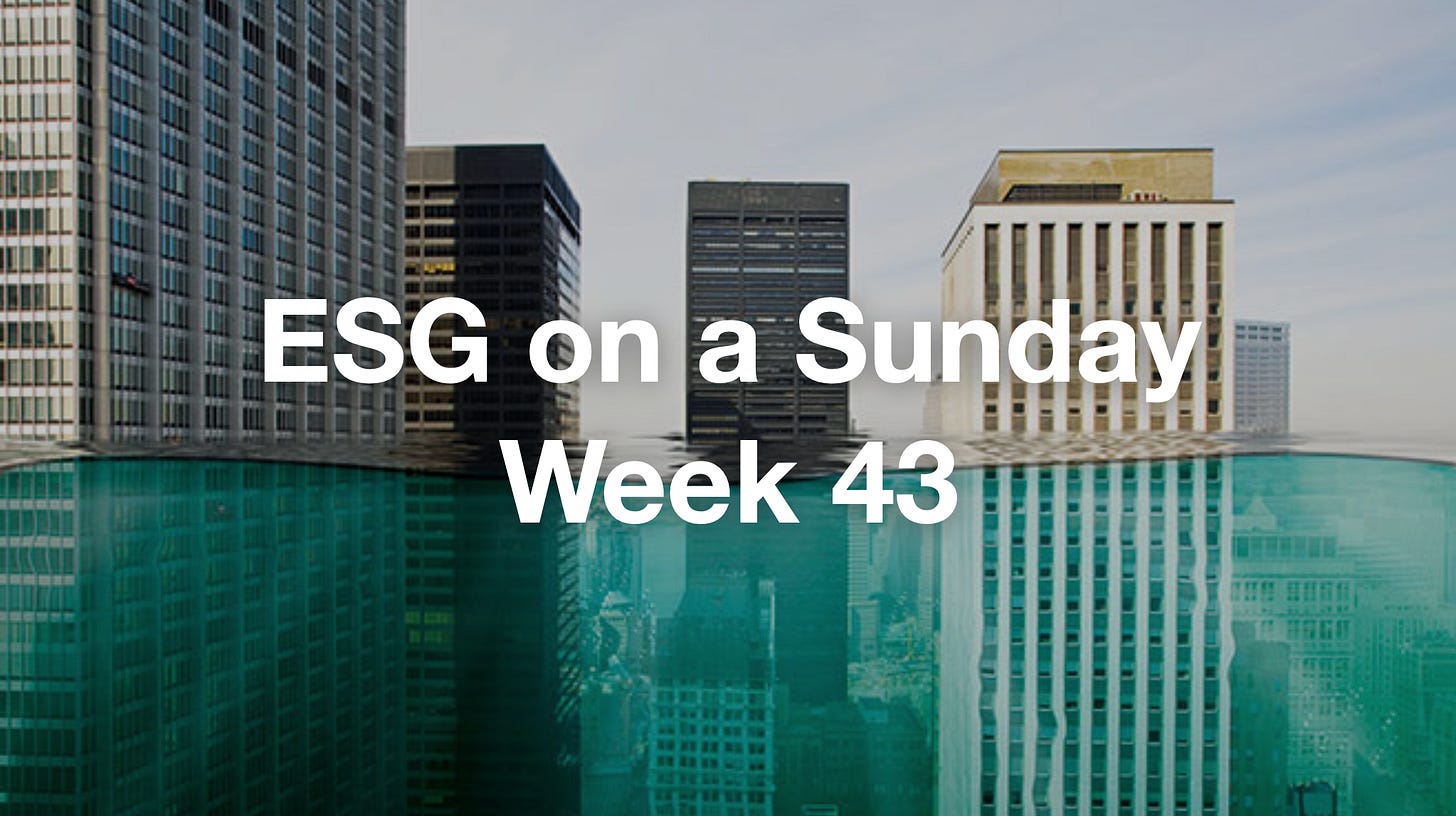 Dear all,
I hope everyone is well and ready for a new edition of 'ESG on a Sunday'.
This week I want to focus on two things: 1) A new model enabling us to measure the climate path of companies, and 2) Climate change in Bosnia and Herzegovina.
In the section 'And in other news' further down I've included some other good reads from the past week.
Measuring the climate path of companies
The financial industry has an issue with climate data. We still rely on sub-optimal data when assessing how companies perform in relation to climate.
Are they reducing emissions as promised? Are their efforts in line with the climate pledges made in the Paris Agreement?
Thankfully, things are progressing, and I feel blessed to be working with Robin Rouger who's making a mark in this space. Since he started working with us, he has been developing a new model to score companies and estimate their climate scenario path in relation to the Paris Agreement.
His model — we call it a "forward-looking climate scenario engine" — has now reached a stage where it's a cutting-edge and setting the standard in the industry.
Below is an example of his work: The climate paths of Amazon (4°C) and Facebook (1.5°C).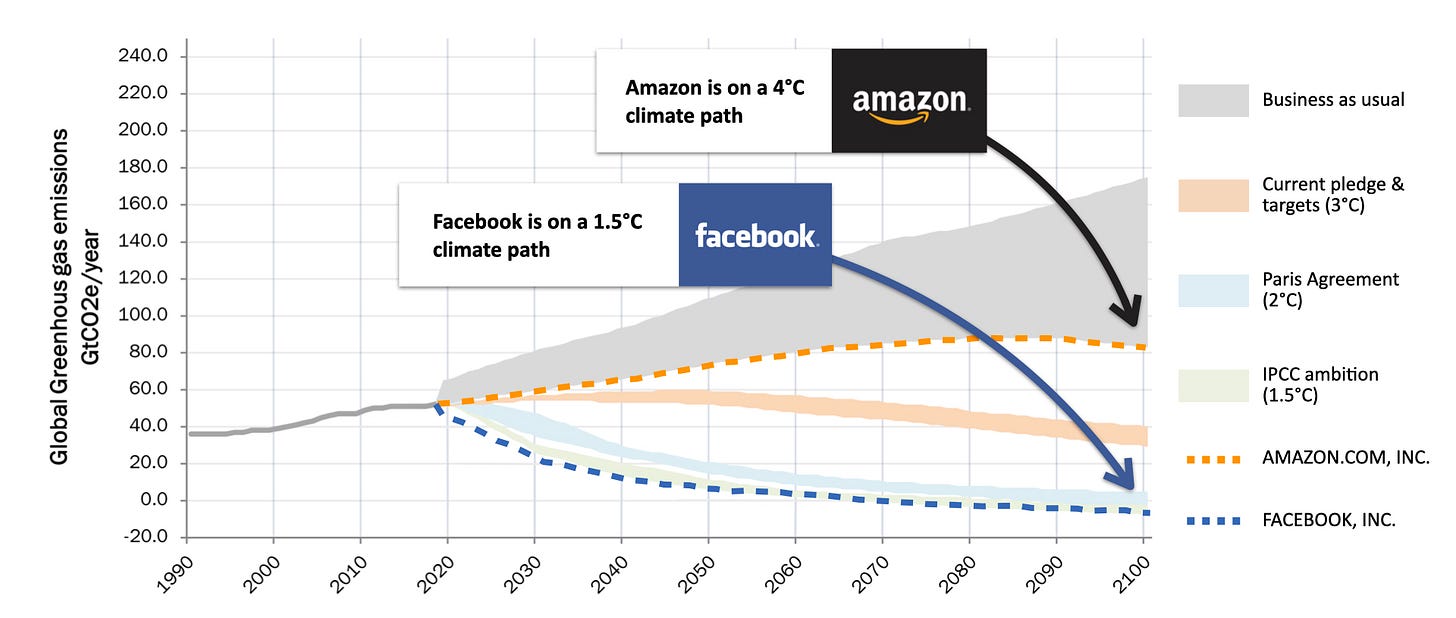 With Robin's model we can create similar graphs (and much more) for all public companies.
It's really interesting work, so I did an interview with him to learn more.
---
Climate change in Bosnia and Herzegovina
As some of you know, I was born and raised in Bosnia and Herzegovina. I fled to Sweden in 1993 at the age of 19 when the war broke out. I still have friends and family in the country and also visit quite often.
As you know, or can imagine, the difference between Bosnia and Herzegovina and Sweden is really big. One area where the difference is enormous is in relation to climate science and awareness.
Today, Bosnia and Herzegovina lacks awareness of climate change and what it will mean for the country, not just from an ecological perspective, but also on a social and economical level. The very short version is that it will have a huge impact.
Sadly, Bosnia and Herzegovina has a history of not being prepared and not responding to unlikely events before it's too late. COVID-19 is just the latest example of many, and climate change is likely next in line.
Therefore, I'm really proud to be co-authoring (with Amar Causevic, Faruk Hadzic and Robert Griffin) the very first report on climate change in Bosnia and Herzegovina. In the report we map all the various impacts and risks of climate change – and we also provide a list of solutions.
I really hope that our report will be read in depth by all relevant government officials, politicians, journalists, NGOs etc in the country.
The report is published in both Bosnian and English.
---
AND IN OTHER NEWS…
U.S. Solar Group Calls for Pulling Out of Xinjiang Over Abuses
In an interesting move, the leading U.S. solar-trade group – the Solar Energy Industries Association – is calling on companies to move their supply chains out of a Chinese region, citing reports of human-rights abuses. Read more.
This comes at a time when companies are already focusing on building resilience in their supply chains, e.g. by relying on multiple manufacturing countries. Read more.
A Climate Hub for Small and Medium Sized Businesses
The climate agenda is big in the corporate world. Or rather: It's big in the large enterprises who have the muscles to focus on it. The picture is entirely different when you look at SMEs.
Therefore, it's great to see something like the SME Climate Hub, an initiative that provides SMEs with a one-stop-shop to make a climate commitment and access best-in-class resources. Here, SMEs can get help to measure, set targets, reduce emissions, track and communicate progress. Visit the website here.
The Next Big ESG Topics
The issues that drive sustainable investing has been very visible this year – from wildfires in Australia and the western U.S. to global protests against racial inequality. But, of course, nothing has grabbed more attention than COVID-19.
This is emblematic of what ESG is about. It's a field that's always changing and developing with the world around it. But what will be the environmental or social topic on everyone's mind next year?
In this piece, Bloomberg has asked a long list of experts, and the result is very interesting. It includes everything from mental health to credit risk.
ESG fund managers' favourite global stocks
And finally, something very specific. Investors Chronicle has done some research to identify the favourite global stocks of ESG fund managers. And there is a very clear winner… Microsoft Corp.
Go check the list yourself here.
---
And that's it for now. I wish you a great week!
Best regards, Sasja