Discover more from ESG on a Sunday
The best ESG-related insights this week
Over 4,000 subscribers
Week 26: Dare to dream bigger... An analysis of Alibaba
Alibaba is on a 1.5C path, better than the target set in Paris. But how sustainable is the Chinese B2B e-commerce giant really?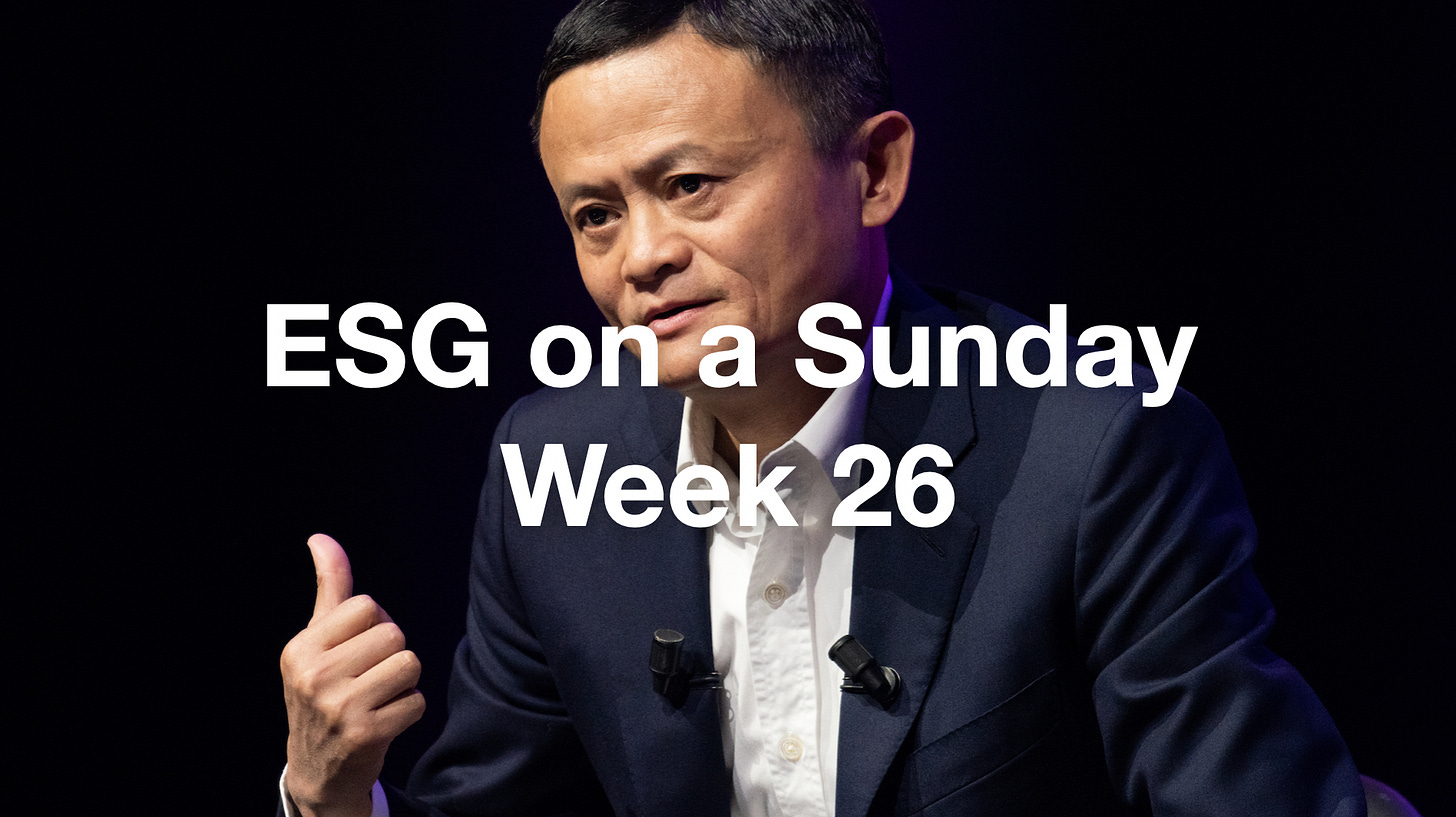 Dear subscribers,
It's Sunday. So it's time for a new edition of "ESG on a Sunday". 
This week's top story is my own ESG analysis on Alibaba, the Chinese B2B e-commerce giant created by Jack Ma, China's richest man with an estimated worth of $38 billion.
A lot of good things can be said about Jack Ma and Alibaba. For example, the company is on a 1.5C path, better than the target set in Paris.
But as always, it's not that simple, and there's much more to look into in order to do a proper ESG analysis of a company.
And now on to other stories from the week…
Lessons from the pandemic
"There will be no vaccine for climate change." When such a statement comes from people that work for the European Central Bank, you get the chills.
Andrea Enria, who heads the ECB's banking supervision arm, warned this month that the exposure of the euro area's biggest banks to the most carbon-intensive companies mean an abrupt transition to a green economy and could trigger an increase in banking-system losses of up to… 60%. Yes, that's right, up to 60%!
Pensions, savings, stability of monetary system. All of it is at stake more or less.
Energy stocks that represent large part of existing benchmarks and indices and reflect holdings in zillion financial products will likely wreak havoc the next 5-10 years. BP has recently "written down" its assets, what is usually called "stranded-assets", and many more will come. The changes in energy sector will probably be gigantic the next 3-6 years.
Read the Bloomberg story here.
Siberia caught in a heatwave
In one of previous 'ESG on a Sunday' newsletters (this from Week 23) we touched upon the large oil spill accident in Russia, close to the most polluted city on the planet, Norilsk.
When you look at it as an isolated accident, you think, hmmm, it must be down to corruption, bad management, drunk supervisors etc. But think again. Temperatures in Siberia have been significantly warmer than usual since the beginning of the year, and a weather pattern has trapped a heatwave over large parts of Siberia.
June temperatures average about 13C but this week the highs have been above 30C every day, with the 38C record set on June 20.
The Arctic is warming twice as fast as the rest of the planet, as the reduction in snow and ice exposes bare earth that absorbs more of the sun's heat, contributing to a vicious cycle of warming.
Maybe this could be one of the major reasons for the accident in Norilsk and unfortunately reason for many more accidents to come. We need more, much more information on what is going on in Siberia.
Read more in this story from Financial Times.
Who will pay for climate change?
And finally, you might ask yourself who will pay for consequences of climate change. The answer is you.
This academic article will explain how and why. The study is done by Jesse Keenan, an associate professor at Tulane University, and Jacob Bradt, a Ph.D. candidate at Harvard, and in their research they found that lenders in some coastal and flood-prone areas are already requiring higher deposits before providing mortgages.
They are also more likely to move such mortgages off their books via securitisation, including to the government-sponsored entities Fannie Mae and Freddie Mac. It is a nerdy read but give it a try. Findings are, well, costly.  
And that's it for now. Enjoy the rest of your Sunday!
Best regards,
Sasja
PS: I've been told by a few readers to include links my profiles on Twitter and LinkedIn, so here they you go…